Chiang Mai – Pai
I have mixed feelings with massive adrenaline rushes overshadowed by small bursts of nervousness. I have never been on a long distance motor biking trip before. And here I am about to spread my wings. I am going on a 4 day long drive over the 600 km long '
Mae Hong Son
Loop'
. The Mae Hong Son loop, which is in the mountains of Northern Thailand, has one of the most breathtaking views and curvy roads that make motor biking an absolute pleasure. I hire a 200 cc cruiser – Honda Phantom in Chiang Mai from '
Mr. Mechanic
'. Mr. Benz, the owner of Mr. Mechanic is a very pleasing and friendly person. I have to submit my passport and deposit bike rental in advance. I would never leave my passport with someone else but all the feedback that I have read about Mr. Mechanic makes me do that without any concern. The helmet is for free and rent of the bike is only 600 Baht per day.
How to find Mr. Mechanic: Intersection of Moonmuang Soi 5 and Ratchadamnoen Soi 5, Chiang Mai
Address in Thai: จุดตัดของ Moonmuang ซอย 5 และซอยราชดำเนิน 5, เชียงใหม่
Other ways to do the Mae Hong Son Loop:
Public Bus: You can easily get a public bus to Pai from Chiang Mai (Arcade Bus Station). The only drawback is that they drive too fast and even experienced mountain travelers feel like puking.
Private Car: There are many agencies that rent out a car including Mr. Mechanic. A car is a safer option than motor bike and you have the liberty to go at your own pace. It is however more expensive.
The most common overnight stops for bikers doing Mae Hong Son loop are Pai, Mae Hong Son and Mae Sariang. I wish I had more than 4 days to do this loop as there are so many excursions on the way. You need minimum four days to do the whole loop with sufficient rest.
—-
I decide to do the loop anticlockwise i.e. Chiang Mai – Pai – Mae Hong Son – Mae Sariang – Chiang Mai
Day 1: Chiang Mai – Pai (128 km)
A Novice Driver may take upto 5 – 6 hours due to the 762 curves in mountains however an experienced driver can cover it in 3 – 3.5 hours
I fill up the tank to the brim, load my back pack, wear The necessary Biking Gear and take the H107 to Pai. Once I cross 'Mae Rim', the local traffic slowly fades out and I am now roaring at 80 kmph on a beautiful highway. The roads are well paved and driving is on the left hand side of the road so being an Indian it is easy for me. From 'Mae Malai' I take a left on H1095 towards the mountains.
It takes me a while to get used to the load on my back and the constant annoying noise of the bike's engine. Mae Hong Son loop is one of the top 10 motorcycle roads in the world. I see a new breathtaking view around every corner and I want to stop everywhere. I let pragmatism overpower my emotions because if I stop everywhere I would never reach Pai.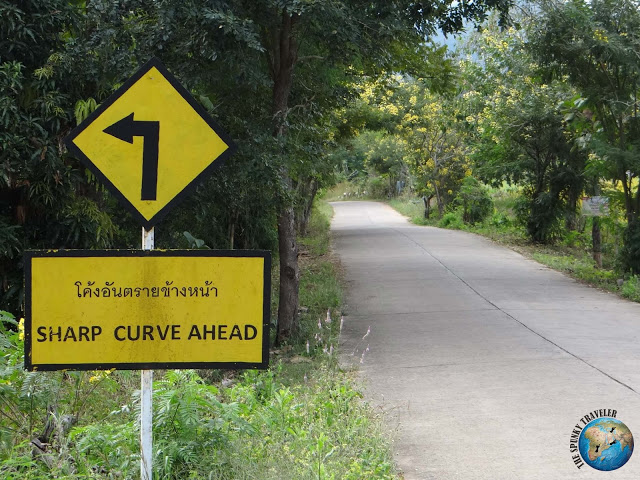 The bike is butter smooth and I am zipping across many small villages. I stop to photograph a small shack with local Thai people selling baskets, hats and other handicrafts made of dried straw. It is so colorful all around and I take a good five minutes to just sit back and capture the colors in my memory.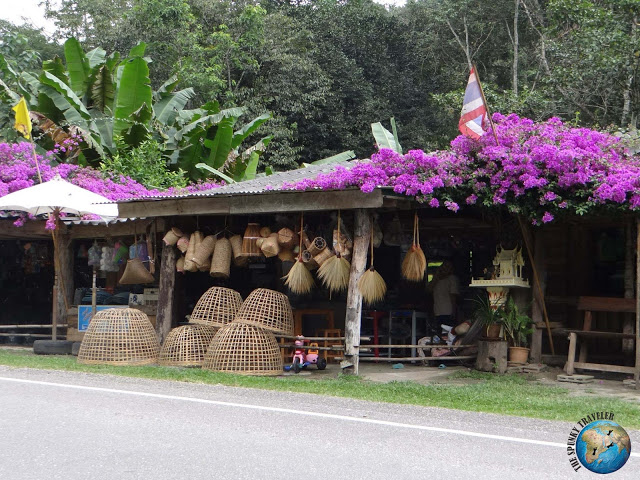 The traffic is well managed and drivers are sensible sans an occasional crazy nut. My first stop after biking for almost 40 km is a small cute eating outlet by the highway. The lady on the counter flaunts her melting Thai smile and greets me – 'Sawadee Khap'. Thailand isn't called the land of smiles for no reason. Smiles are woven into the very fabric of Thai culture. I take my place on a comfortable couch, take off all my heavy biking gear and wait for my sumptuous meal of chicken in Thai yellow noodles with mint ice coffee. The hospitality is amazing and I am completely refreshed. Almost all the eating outlets on the way have free Wi-Fi.
I meet some other bikers on their 'Harley Davidsons' and feel jealous for several minutes because I wasn't driving one of them. Next time I am going to get extra budget for sure. Keeping aside the jealousy I start to acknowledge myself for how lucky I am to be exploring the unseen Thailand. I pity all the travelers who never go beyond Bangkok, Pataya and Phuket.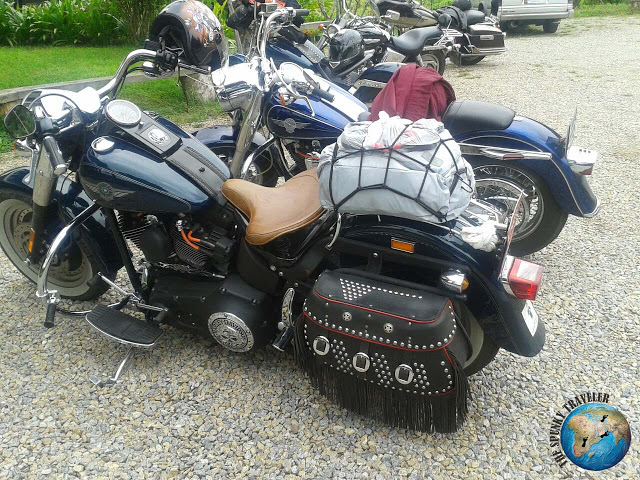 The 128 km long drive from Chiang Mai to Pai is the most scenic of the whole Mae Hong Son loop and compared to other routes the most difficult, since it is in the moutains with some very steep crests and troughs. However, if you have a powerful bike and you don't do some very obvious stupidity, this route will give you some of your best memories.
Approximately 100 km from Chiang Mai, I take a 12 km detour onto a narrow battered road to the 'Pong Duet hot water spring'. This stretch is not as trustworthy as the main highway and I find many places with loose dirt and stones on the road. But the final destination is worth all the pain of driving a heavy bike on such a road. Entry to the hot water spring costs 200 Baht and the same ticket is valid for the other hot water springs on the same day.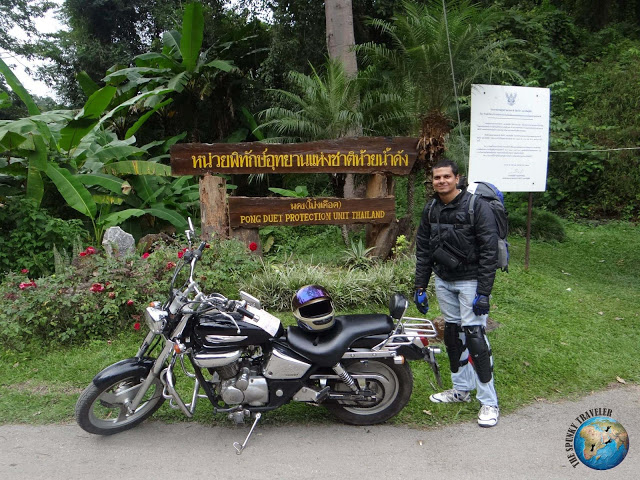 I can take my bike all the way up to the ticket window and then another 500 mtr. to the local museum and souvenir shop. The guard however allows me to go further on my bike and park it near the fairytale guest house. I would happily kill to escape the noise of the big metropolitan I live in and stay at such a place, far away from everything, in the middle of nowhere.
The final climb to 'Pong Duet Hot Spring' is on foot via a maze of steps through thick forests. I can't see a single soul on the way, which is surprisingly spiking my 'excitement increasing' hormones. I listen to the sound of the forest, beetles and falling raindrops.
It is the first time in my life that I am seeing a Hot Water Spring and I am excited like a 2 year old kid. I have seen a hot water spring so many times on television but nothing compares to seeing it in person. I am standing in a clearing in the middle of thick forests, there are huge trees all around me, steam is spewing out from the earth and the only sound I hear is of boiling water being blown high above the ground by hot gasses released from undergroung volcanic fissures. It is like my own personal spa in the middle of a forest. If only I could step into it without becoming a toast.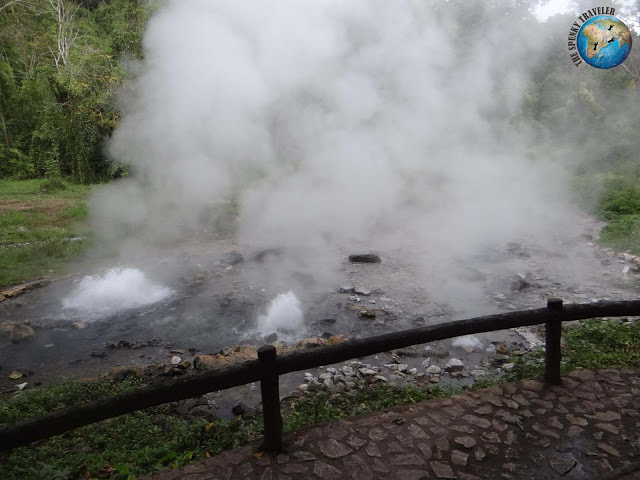 Night has fallen, it is pitch dark, I am still 10 – 15 kms from Pai and the only lights I can see are that of the few cars ahead of me which are moving too fast for me to keep pace with. I have never seen Pai before and I won't even come to know if I overshoot it at this time of the night. After driving for another 10 km I see a couple of guest houses. I stop my bike, choose a house randomly and knock on the door. A girl comes out with her usual Thai smile. She can't speak English but understands that I am a lost traveler. She calls my hostel from her phone and asks me to wait at her place till someone arrives to pick me. After almost 30 minutes a guy comes flying on a scooter and greets me in a cheerful voice. I am touched because the help that I got from these guys was more than I expected.
As I am leaving, the girl turns to me, waves a good bye and says 'Have Dinner'. All my tiredness fades away from the welcome and hospitality I get at this mountain village called 'Pai'
===
Related Articles:
===