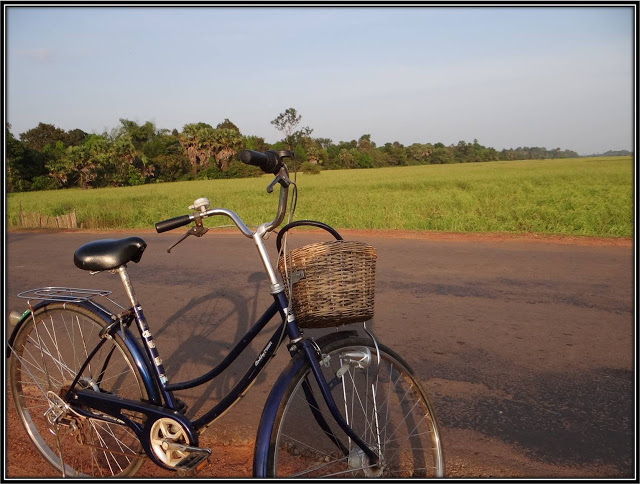 My Bi-cycle @ Angkor Archaeological Park
The melting heat always makes getting around Angkor Archaeological Park a challenging task but the Cambodian government has provided some excellent means of travelling to and around their most prized possession. You can take either of the following options depending on the time you have and the depth of your pocket.
Bicycle:
They are the most popular medium and are easilly available in Siem Reap for as little as $1 per day. A bike with a basket is very useful as you can carry fruits and water. Most of the temples near Angkor Wat are not more than 15 min from each other by bike.
You need at least 3 days to see the whole park
on a bicycle. Water is much needed and a 2 ltr. bottle will usually cost $2. Grab it when you get a chance because the sun is really evil out there.
Bicycle stores will generally ask for passport as security but I did not trust them enough so I had them settle down with my driving lisence. Bargaining is rampant and I request you not to shy away from doing it. Even 50 cents is a big bargain in Cambodia. The things are as it is dirt cheap.
Tuk-Tuk:
They usually start with $20 per day but will come down to as low as $12 upon bargaining. This cost is for the main temples of Angkor Wat and Angkor Thom.
For the far flung temples charges are extra.
Drivers usually speak english and can tell you lots about the area
Drivers usually charge an extra fee of $3 – $4 for sunrise at Angkor Wat as they have to specially come at 5 am to pick you up.
Electric Cars: They take you to very limited areas for only $2 round trip. They can be found in front of the Angkor Wat
Chauffeur driven car: They are available for about $30 a day. Most drivers speak english but they are not tour guides. It is illegal in Siem Reap for a foreigner to take his own vehicle or hire a self-driven vehicle. You can hire tour guides along with the car for $45 – $50. You will also get hit upon my many tourist guides once you reach Angkor Wat. Bargaining is again the key.
Motorbikes: With drivers are available for $6 – $8 per day from guest houses or hotels. Hiring motor-bikes without a driver is prohibited in Siem Reap but you can drive anywhere else in Cambodia. Pretty good strategy by the government to boost its local commuting facilities.
Entry into The Angkor Archaeological Park requires a pass. As of 2012 the charges are:
1 Day Pass: $20
3 Day Pass: $40
7 Day Pass: $60

The ticket windows have high tech equipments which do not take more than 5 minutes to click your photograph and print out a pass. The staff is polite and trained to do their job.