Pre-travel research about the necessary permits, visas and Forex requirements is always a daunting task for most travelers. During my recent
motorbiking journey to Bhutan
, I had difficulty in finding information on web which was written from a travelers perspective. I just had to come up with an exhaustive guide which was written keeping in mind the questions of a traveler.
Entry into the Phuentsholing border is open for Indian vehicles, however, in order to go beyond you have to get permits. If you are travelling by your vehicle, you need two permits, one for yourself and another for your vehicle.
Permit for Individual travelers
You will have to cross over the border before 4 pm as the permit office closes after that. It will take at least an hour to get the travelers permit. Once you enter Bhutan, immigration office is the building after Indian Oil petrol pump on your right. Here are the documents that will be required:
1. Copy of travel document (Passport or Voter ID card)
2. Application written to the Immigration officer requesting a permit (permits are given for one week only)
3. You need to fill a form which is available at the immigration office
4. Two passport size photographs
Note: All the travelers may not be present in person to get permits. One person can apply for all.
A permit for individual traveler looks like this.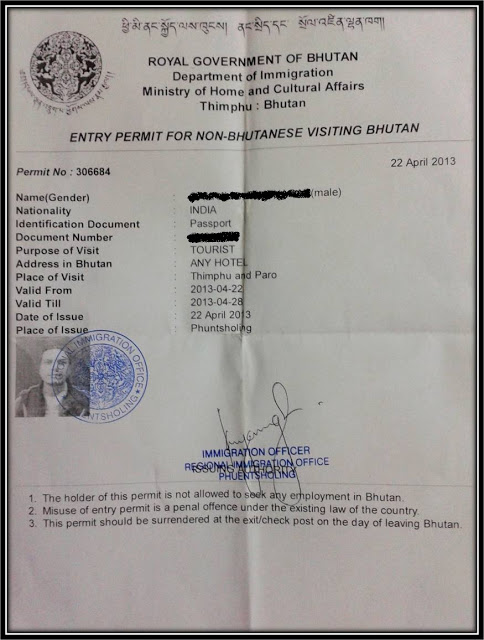 Entry permit for travelers into Bhutan
Permit for the Vehicle
You need to get your permit before applying for the vehicle permit at the
RSTA – Road Safety and Transport Authority
office. The office timings are from 9 am – 11 am and 1 pm – 3 pm. The documents required for the vehicle permit are:
1. A xerox copy each of vehicle's registration certificate, insurance, driver's license, pollution certificate
2. An application form available at Window No. 04 needs to be filled along with it
3. Xerox copy of the travelers permit
The process to get vehicle permit is a little tedious so I have made it simple for you: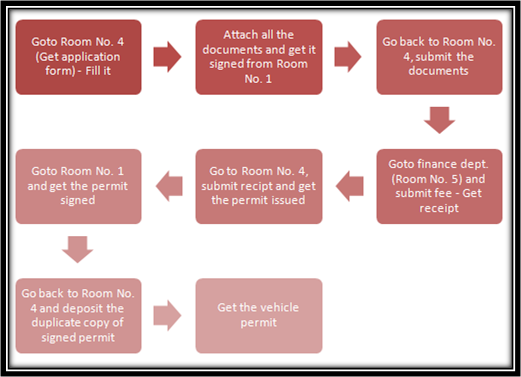 Process to get Vehicle permit from RSTA office
This is what the vehicle permit issued by RSTA looks like.
Vehicle Permit, Issued by RSTA office, Bhutan
You will need to show the vehicle and travelers permit at two checkpoints between Phuentsholing and Paro/ Thimphu. You have to deposit the permit back at the last checkpoint on your way back.
Some additional tips:
1. Visa/ Permit on arrival is applicable only to the citizens of India, Bangladesh and Maldives
2. They are a little apprehensive in issuing permits to solo travelers. I got it because I had European and British visas stamped (Not that you won't get it if you don't have British visa)
3. These permits are applicable only for Thimphu and Paro.
4. Permits for Haa Valley, regions beyond Thimphu and permit extensions can only be applied for at Thimphu immigration office. The processing takes one day.
I hope I have answered all the question in one article. If there are any suggestions that you have or if you noticed any changes in the process recently, please let us know in comments below.
===