Two things special about Darjeeling are the clouds that float into your room through the windows and the hospitality of its people. I purposefully avoided big restaurants and chose to explore the smaller more cozy ones. Here is what I recommend –
1. Sonam's Kitchen – This small but neat restaurant is on Zakir Hussain road. There are few benches to sit so you will have to share the space with other travelers. That's what makes this place so unique. You will eventually end up having conversation with someone.
Food: I would not have breakfast anywhere else in Darjeeling but Sonam's Kitchen. Try number (d) on the menu – Hash brownies, Toasts, Half fried eggs, slices of cheese & tomatoes. Make it go with Darjeeling ginger tea.
There is a shelf from where you can pick up any book and read. You can even buy one. They have a dog named 'Lola'. She may just walk up to you and rest its head on your leg while you eat.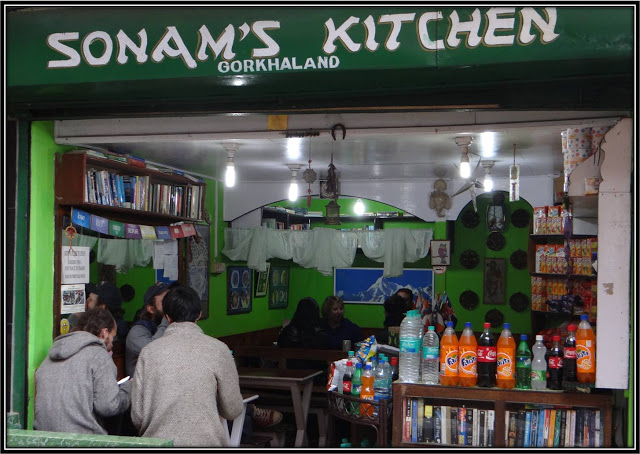 Sonam's Kitchen, Darjeeling
2. Kalden Cafe – It is run by an old Tibetan couple who will cook the food for you. The space to sit is less but the food is amazing. I recommend having lunch or dinner here.
Food: Try out chicken curry with rice. It is less spicy but I loved it. They serve authentic Tibetan dishes. Have Tibetan tea with salt or sugar. I tried the one with sugar. It left a layer of butter on my upper lip as I sipped.
The couple has never used a computer. Still, the cafe has been mentioned in multiple languages in websites made by travelers who liked their food.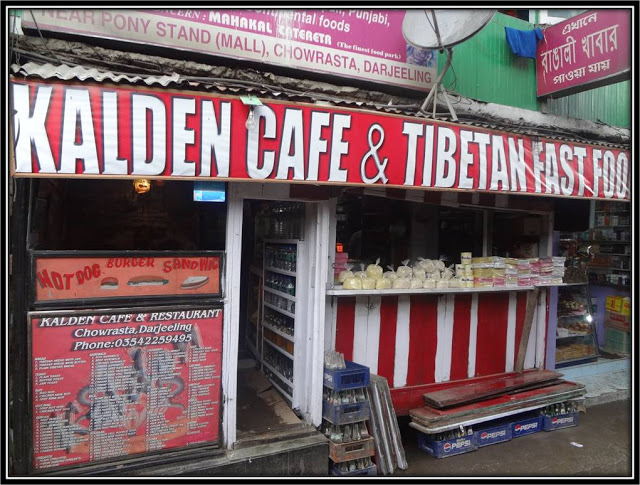 Kalden Cafe, Darjeeling
3. Hotel Penang – This restaurant is bigger but in a small lane. The sign board can be hardly seen but everyone in Darjeeling seems to know about it.
Food: I had the most soft and juicy momos ever. The first one just broke in half as I picked it up.I especially liked the sauce. I wish I had more days in Darjeeling to try out their other dishes. I recommend that you do.
They serve liquor as well for which there is a separate section.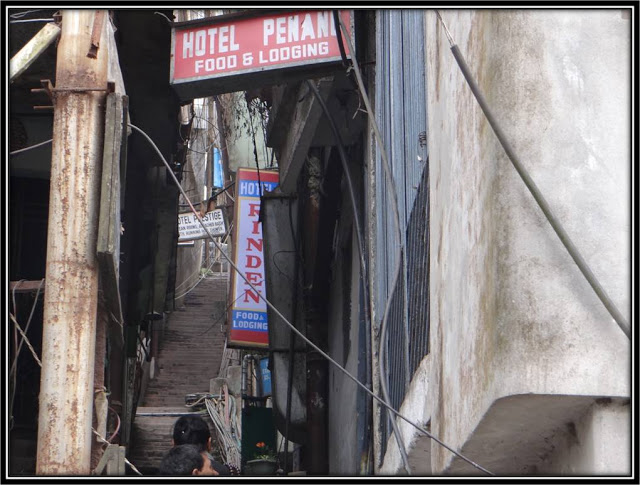 Hotel Penang, Darjeeling
4. Frank Ross cafe – I loved the ambience of this cafe which serves only vegetarian cuisine.
Food: The food was good but a little less in quantity. They serve chinese, and south Indian food. You will even get 'Aaloo parathas with green mint chutney' here. Try out the cinnamon coffee.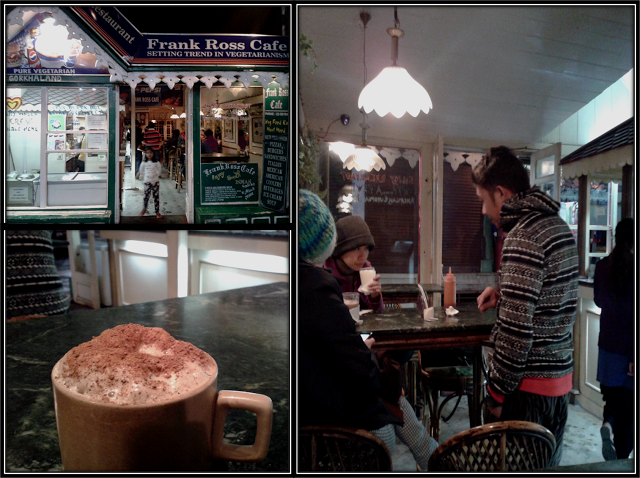 Frank Ross Cafe, Darjeeling
5. Gatty's cafe and pub – This place is further up on Zakir Hussain road after Sonam's Kitchen. Best time is after 7 pm till 12 in the night. It is run by Gautam (The name Gatty's goes after him).
Food: Have a couple of drinks at this cozy place or catch a movie in their lounge with other travelers before trying out some of their pastas, ravioli, lasagna and french fries. If you are lucky, you may also get to see a karaoke or an open mic night.
Rent from them a few push bikes and explore Darjeeling. If you are the spunky traveler, go on guided biking tours to Nepal and Sikkim. Or hire a motorbike to explore the north east and neighboring countries.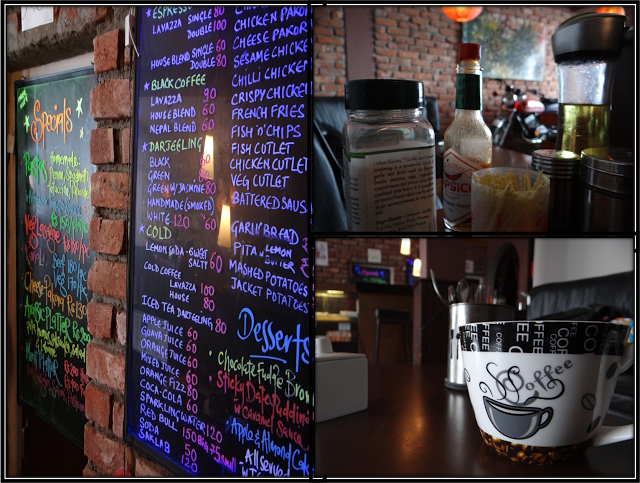 Gatty's cafe, Darjeeling
* The places mentioned above are budget ones. Certainly will not be heavy on pocket
Have you explored any other unique place to eat in Darjeeling? If yes, tell us.


—