Last month I planned to travel to Bengal in search of some hidden villages around Darjeeling, but half way in the train I got news that the mountains of northern Bengal are closed indefinitely for visitors. I called up my host who suggested another place called Chalsa where I could travel to. I haven't done research on this place and I am in serious doubts about whether it will be worth visiting.
It is drizzling and the wind has a distinct chill in it which leaves me with goosebumps. I have no idea where Chalsa is, but, as the taxi driver zooms ahead I realize that we are approaching the same tea gardens I drove through on my
Bike trip to Bhutan
. During the bike trip, I wished I had more time to explore these vast tea gardens and the small villages. I wanted to come back. I believe the universe has conspired to bring me back here within a few months. Yet again, the fate has something wonderful in store for me.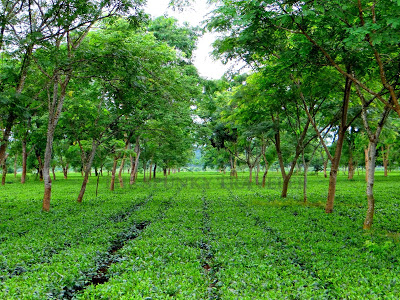 Tea Gardens kissing the horizon
It has started raining cats and dogs. My new hosts who have had to prepare in a hurry for an unexpected visitor are very warm. After living in Delhi for most of my life, I need constant reminders that there is no reason for being happy. A look at the platter of food made me happy for the rest of the day. I still feel hungry when I remember the rice and fish cooked in mustard oil that they made for me. The food filled my stomach much faster than it could pacify my senses that yearned for more.
Platter of Rice & Fish
And to top it all up, they serve me with the most amazing lemon tea that I have ever tasted. They call it 'Cha'. I can happily let go of any branded lemon tea for this one.
Leaves you hungry isn't it?
***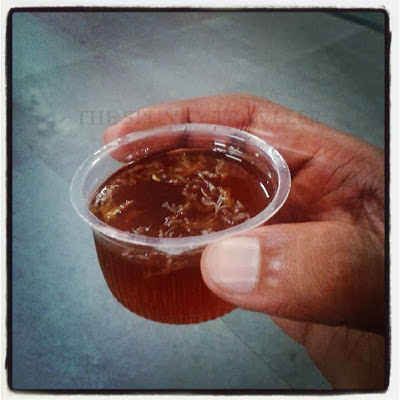 'Cha' – The Lemon Tea
The hosts tell me that sometimes elephants or leopards from the forest cross over the river Murti and roam around the village at night. It thrills me to imagine an elephant walking by the front gate at night. I can't wait for the rain to stop so that I could take a walk around the local villages. I have never seen paddy fields in my life and here I am surrounded by them for as far as I can see.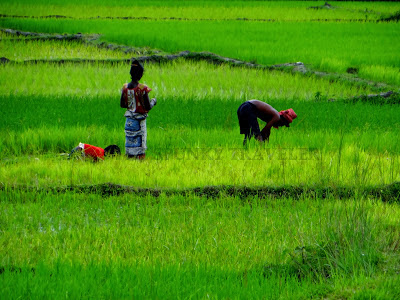 Paddy fields
It is so beautiful to just stand and watch a goat eat from a tree or a cow feeding its calf. The goat is shy and runs away when I go too close, hoping that I could play with it. The simplicity of rural life has made me reconsider time and again about what I want in my life and what I really need. I am glad I sold most of my belongings to
Travel to Thailand
last year.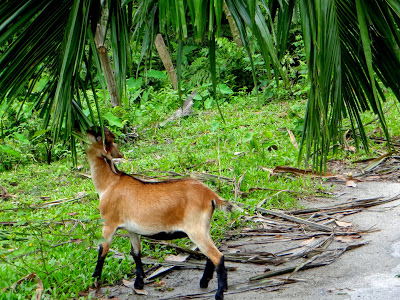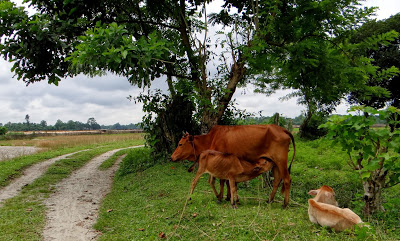 The local villagers are not accustomed to see visitors. Some of them call out on me asking me, in their broken Hindi if I could click their photograph. During my travels, I have often seen that even though people know they will never get to see their photograph, they are delighted to pose for it. I believe, for them it is joy of the present moment that matters not what they will get from it.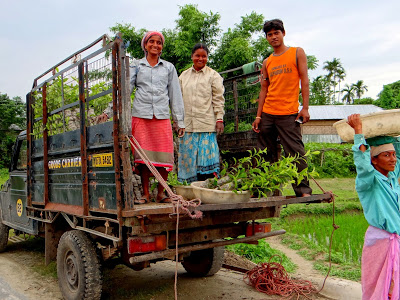 Local villagers were too happy to pose
The village children do not have toys or gadgets like us. Neither do they have internet or sources to keep them entertained. Yet they are happy with whatever they have. This girl seemed to be dancing with joy while playing the games that we once played as children.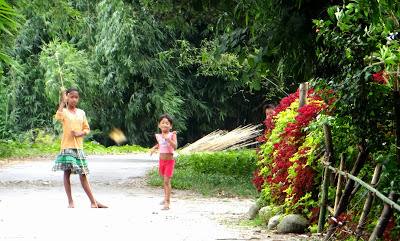 As children, the joy of just bicycling with friends or siblings was more than chatting with them online which we do now. The children and local villagers peep at me from their huts and from the corners of their eyes as I walk around with my camera clicking moments of happiness.
What childhood games does this remind you of?
***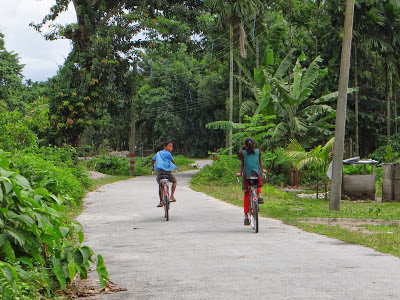 I pick up a bicycle myself which my hosts are gracious enough to arrange and start riding towards wherever the road leads me. Beyond the tea gardens and rice fields, I ride past forests with trees that are centuries old and dense enough to block out even suns rays.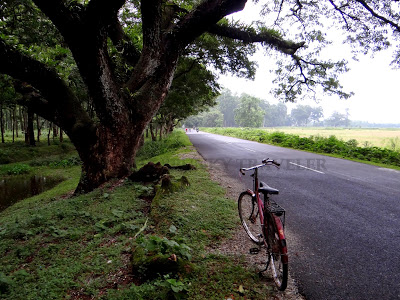 Bicycle ride around the villages
I  never use horn while driving, but, I can't resist using the bicycle bell the sound of which is far more pleasing than that of a horn. It has been almost a decade when I used to ride a bicycle to my school. I have gotten used to a more comfortable driving seat and the bicycle ride does leave me a bit sore.
I stop my bicycle and from the highway I stand and look deep into the forest where elephants live. I wish I could go in and explore the forest.
Tip: Stay away from Elephants and Rhinoceros during monsoons. It is their mating season and they tend to get aggressive.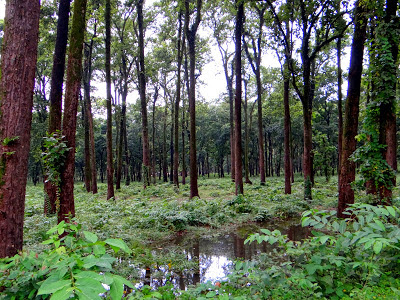 Somewhere there I could have a tree house
I discover a grassland where I stop my bicycle to listen to the sounds of nature. All I can hear is the sounds of cows chewing grass, water of river Murti splashing by its banks and the sound produced from the clicks of my camera. I wonder God has given enough to each one of us to sustain provided we are ready to look for it.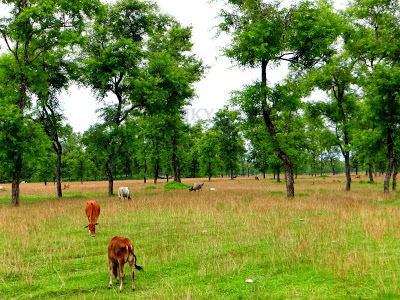 The sun is setting fast and some village children who seem to be very happy to see me around are following me constantly, giggling and laughing. They keep jumping around and following me as long as I am not looking at them. I am well aware of this but choose to let them believe that I don't know.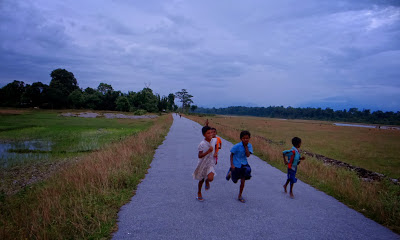 I finally buy candies from a store and offer them some so that they can give me space to talk to them and capture their moments of innocence. The squeals of delight that I get back from the children in return is worth giving these to them slowly one by one.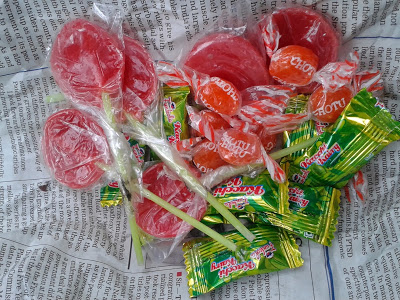 The setting sun is spreading an amalgamation of colors that I have never seen in my life before. With each click I am left in awe. Shades of green are mixed with turquoise blue and splashes of amber from the setting sun.
What was the random act of kindness that you last did?
***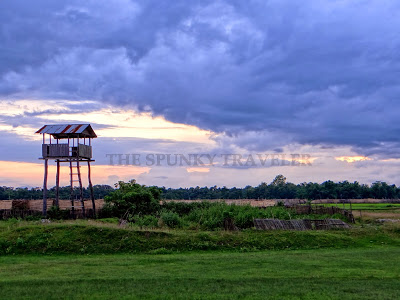 Who wants to sip a tea on this bamboo tower watching the sunset?
***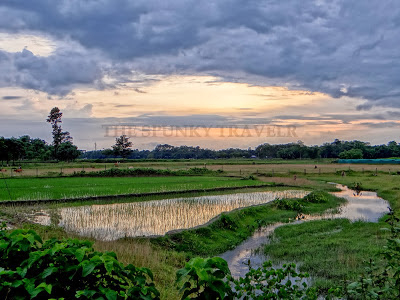 Sun has set and the countryside has fast eloped with the darkness so deep that I have to use my cellphone light to guide myself back. I am bicycling back through the villages when I notice tiny flashes of light around me which keep on increasing in number moment by moment. The village is falling asleep and the only sound is that of people talking in their huts. I stop my bicycle and switch off the light. I am surrounded by a million fireflies. They are everywhere for as far as I can see. They are on the trees, over the river and over the farms. I skip a beat and get that sudden adrenaline rush of witnessing this moment. I do not have a photograph. After all, some moments can only be captured through eyes.
===
Related Articles
===