Moving beyond Puri and Konark where tourists flock to see The Jagannath Temple and The Sun Temple, I decided to visit a smaller place called Gopalpur. Recently, we have taken up a sustainable community development project in this region. Gopalpur faced the force of Phailin cyclone head first in October 2013. During the journey, we discovered one of the most beautiful yet lesser known places of Odisha. Here are some moments from the journey -We arrive in the evening. The sun is fast eloping into the vast depths of the ocean leaving a golden footprint everywhere and a gentle breeze to chase it. We quickly shake our photographer self alive before its too late and are successful in capturing moments like this.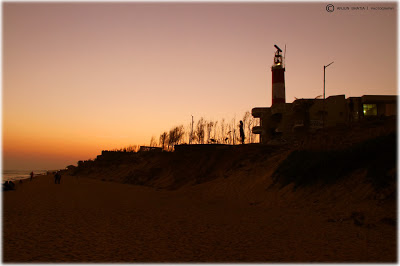 Sunset at Gopalpur beach with lighthouse that stood as a guardian at night
After dinner, we decide to take a walk around the army cantonment we are staying in not knowing that sometimes wild boar roam on main roads. Thankfully we do not meet any. After a long journey, we are tired. No matter how much we try to get up early to catch the sunrise, we miss it. We still go to the beach to capture moments from daily life of local fishermen.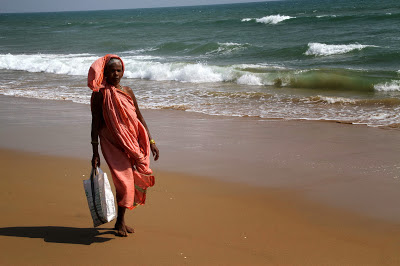 Fisherwomen on the beach
The blue water crashes wave after wave on the sea shore creating white frothy water the bubbles of which burst on my feet leaving a tingling sensation. All that I hear is the sound of gushing water, sea gulls and the sound of sand crunching underneath my feet. I gather some courage to go knee deep in the ocean. Notice a slight curve on the horizon.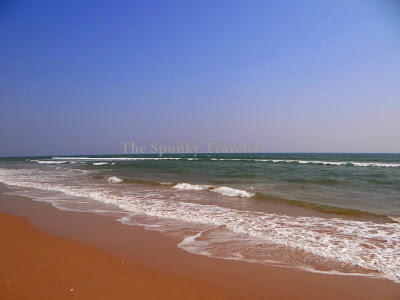 Morning waves crashing on the beach
The sands of army beach in Gopalpur are golden and grainy. I take it in my hands and look at it closely. It is so beautiful, I want to carve a figure out of it that would glow in the golden sun. Sadly, I am not a sand artist. The ocean occasionally gifts me with interesting pieces of gems from its jewel box.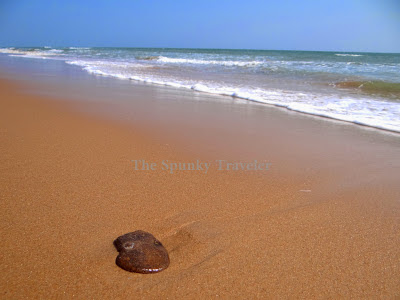 Army beach Gopalpur
The creatures of the ocean are here to welcome me. The ocean throws at me many broken shells. Among these broken ones, there are some that are intricately carved by God himself. They also have life in them. Notice a piece of flesh protruding out of the shell that always wanted to be submerged in water or at least in wet sand. Some fishermen passing by stare at me with curious eyes, wondering what I am looking at so closely in sand.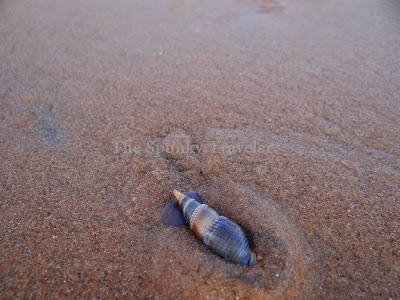 Shells from the Ocean
Each wave that recedes from my feet leaves behind small creatures that are at first difficult to see. I only experience them when they play around on my feet before jumping back into the water. I manage to get a close up shot of these amazing creatures.
Can any expert on creatures of the sea tell me what are these?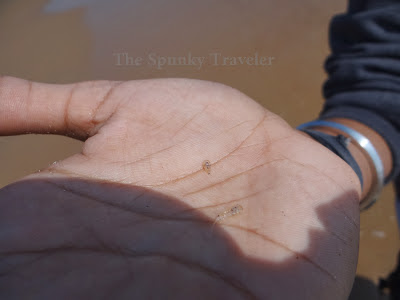 They played on our feet before jumping back into the water
We meet village women the rest of the day. Our community development project in Gopalpur district will, in its initial phase, create sustainable funds for an old age home, create a homestay, and a local dance and painting school to inculcate a sense of community among village folk.
I do not miss different moods of the sunrise next morning. I am tired from a late night sleep, yet I walk almost 5 km on the beach to capture these.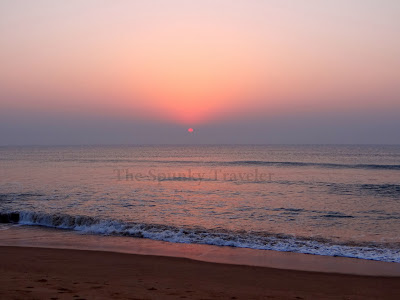 The sun decorates the landscape with its gentle glow
The sun rises and creates around itself a halo. It is now beginning to leave gentle warmth on my cheeks. My lungs are so accustomed to the pollution of Delhi that they feel a little parched in the absence of their daily dose of carbon dioxide.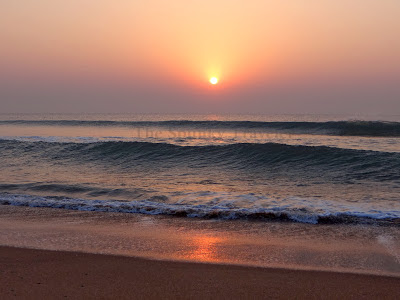 The sun creates a gentle halo around itself
We are scheduled to visit the old age home and meet some officials today to plan out next actions and get their support. We spend our evening visiting the Taratarini temple on the Kumari hills on the banks of the Rushikulya river. The temple is newly built. However, I am surprised to see how much care has been taken to build it in typical vedic and Odiya architecture.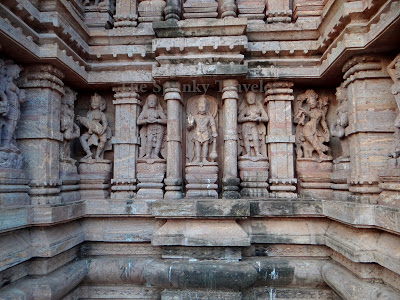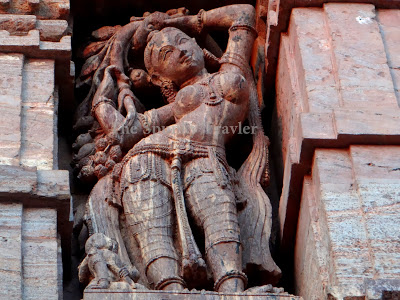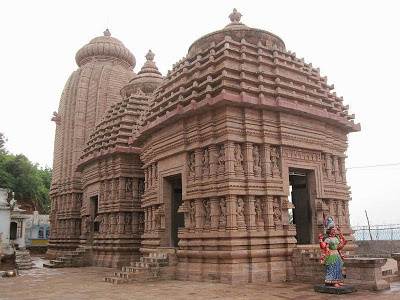 Image Source: Wikipedia.org
In the evening, we are invited for dinner by the local women. Everyone has prepared something for us. I do not remember the names, however, this was the most amazing food we had while we stayed in Gopalpur.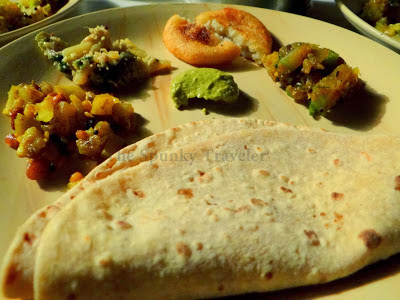 Odiya food that local villagers made for us
We will be back soon to take next set of actions to execute our community development project. For more information about this project, please visit our
projects page
. We are looking for enthusiastic individuals who would be willing to join us in this cause. If you are one, please drop us a line. Let's make this planet a better place for our children.