I lock the door of my bamboo hut and look in anticipation towards the sky. The dawn is breaking. I can see sunlight trying to break through the thick layer of clouds. I can hear the sound of my breath and that of the tiny raindrops falling on my umbrella. Although most people would seek bright sunny days, for me it has always been the thunderstorms, rain and dark overcast days that give me the adrenaline rush.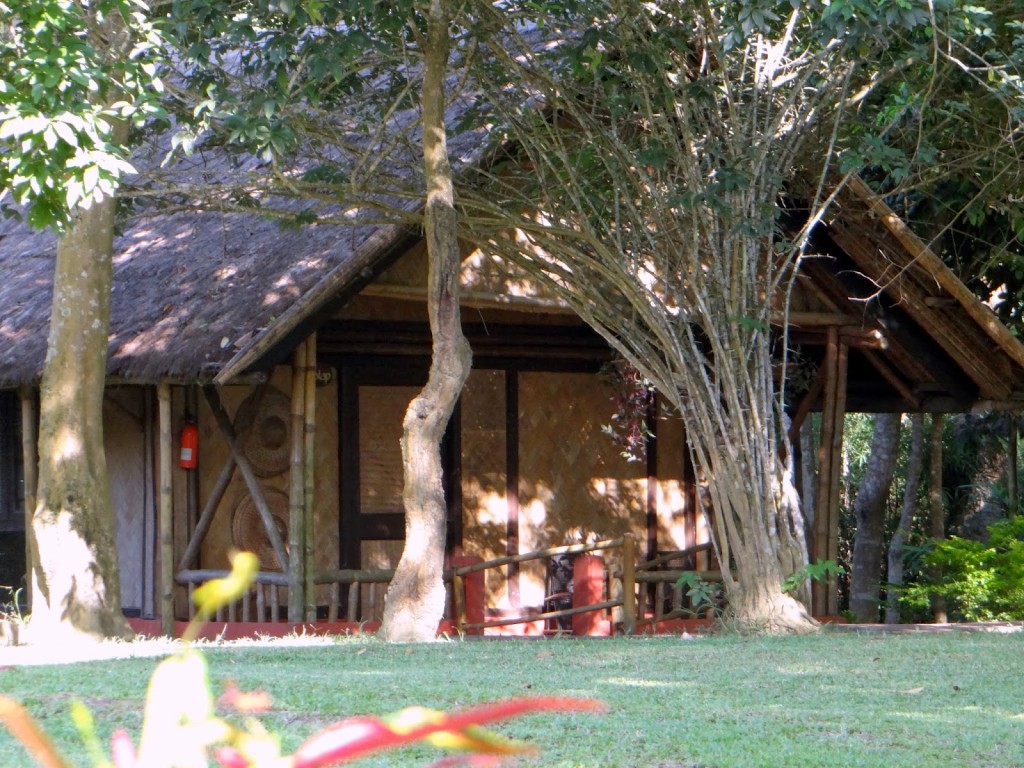 My hut: Photograph not quite taken at the break of dawn though
I need to catch the early morning bus to the banks of Brahmaputra from where I will take the ferry to Majuli Island. While I am waiting on the highway for the bus, few school children wave and smile at me before walking into a village road.
The three hour bus ride takes me through many stunning paddy fields and dense forests. The fields are sparsely dotted with cattle and farmers. I zip past small hamlets. I wish I could stop for a while to just experience the thrill of being in the middle of nowhere.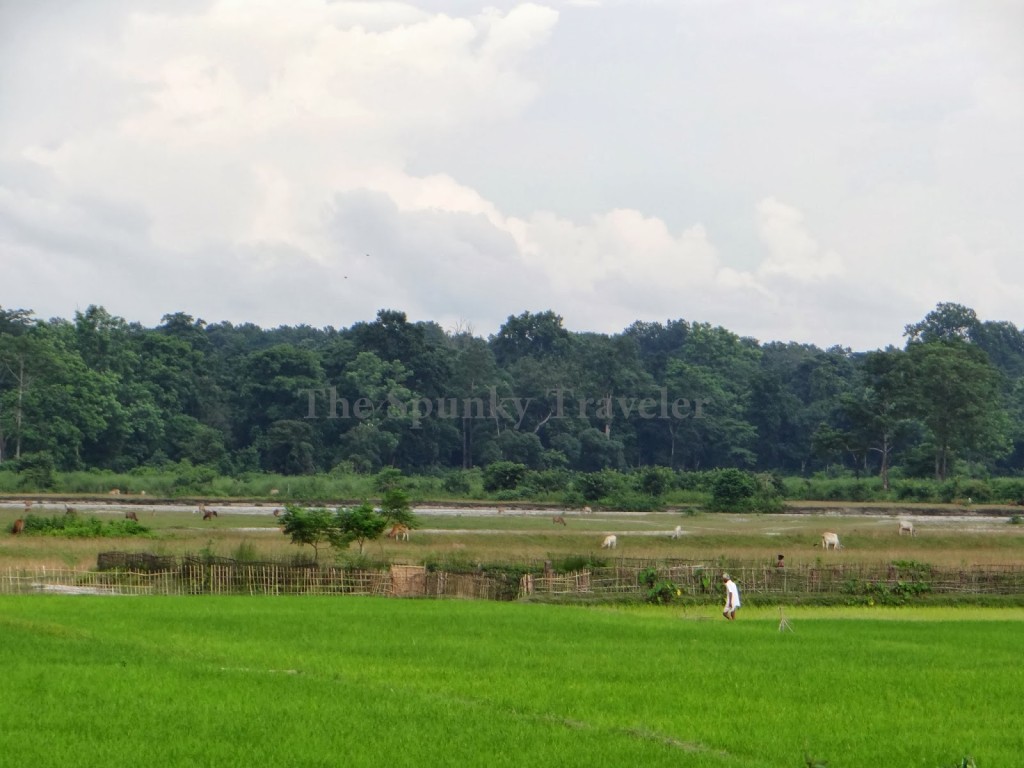 The Paddy fields in Assamese countryside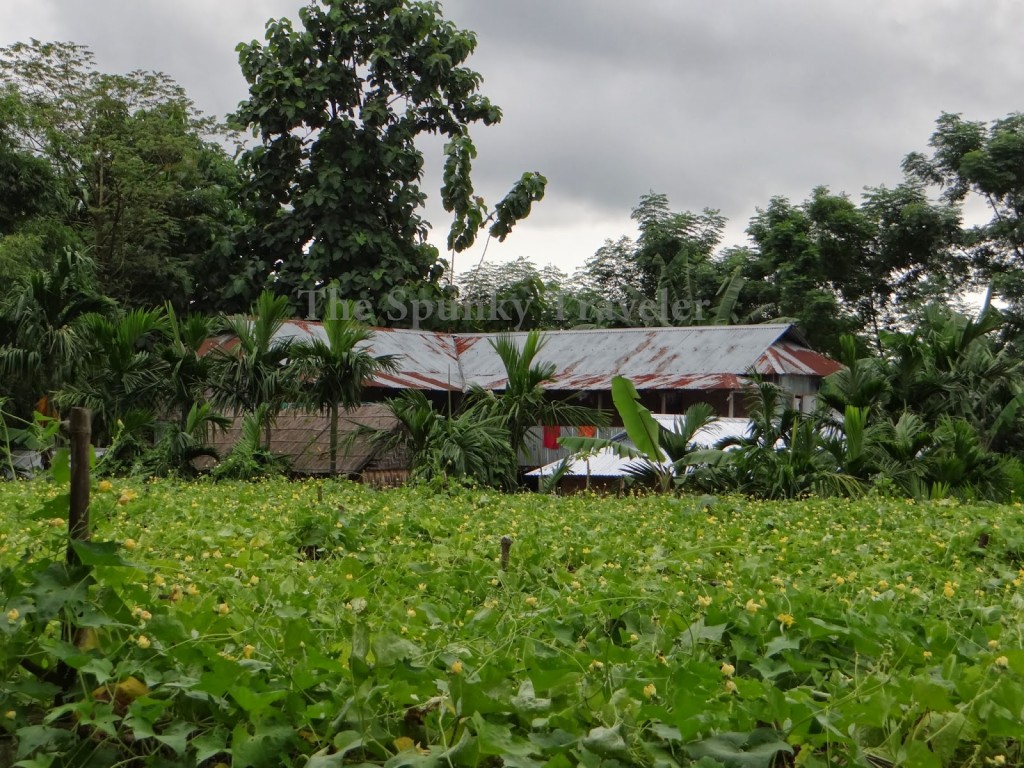 Remote villages of Assam
Basic information about the ferry for Majuli Island –
Ferry Timings: 10:30 AM and 3:30 PM (may vary so reach early)
Duration from Neematighat to Majuli: 1:30 hours (downstream)
Duration from Majuli to Neematighat: 3:00 hours (upstream)
Fare: Rs. 20
I miss the morning ferry and have to wait for the one in afternoon. While I wait, I walk around to photograph some fishermen boats anchored to the banks. These boats move up and down over the gentle waves that crash onto the shore. I see some fishermen playing cards inside one of the boats with Assamese folk music playing on a radio in the background. I sit down, close my eyes and listen to the folk music the words of which I could not understand while gentle breeze rushes through my hair.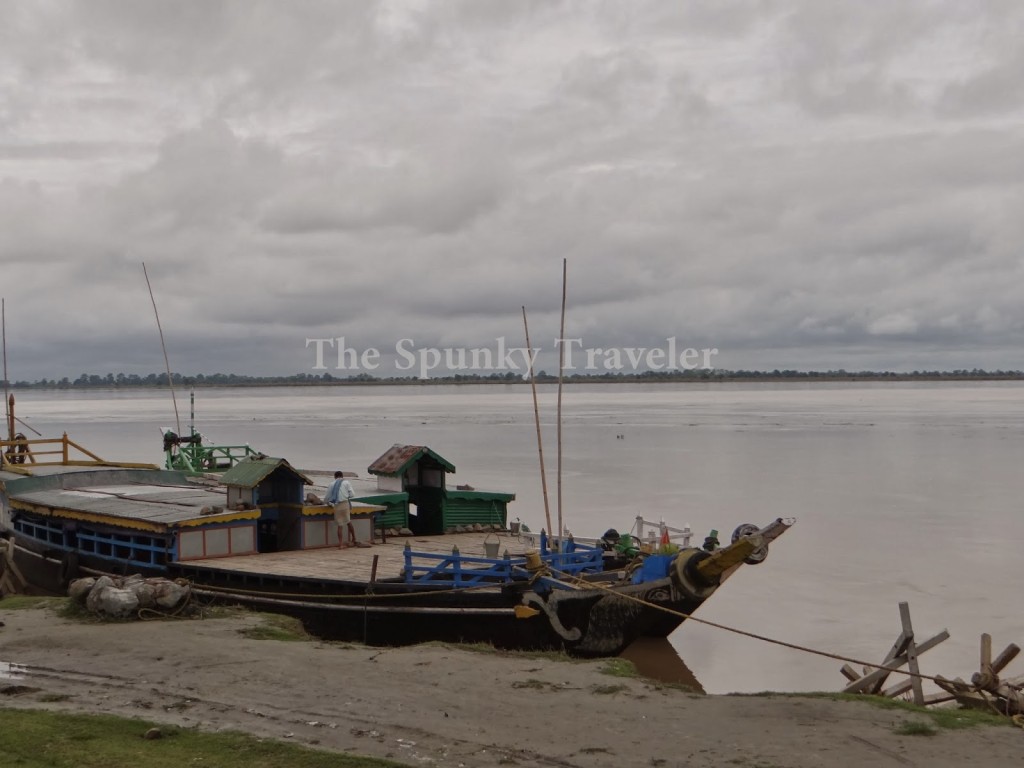 Fishermen boats anchored to the banks of Brahmaputra
I am sad to see the rate of erosion that is happening on the banks of Brahmaputra. The soil is more of clay with nothing to protect it from getting washed off by Brahmaputra. Majuli Island has been reduced to 500 sq. km. from 1100 sq. km. in a decade.
Majuli Island is a series of Folk Tales in itself. Neo Vaishnavism has its roots in Majuli Island and is still deep in the fabric of the local communities. In the evening while I am wondering what to do, I hear hymns that seem far off but alluring enough to explore. A local tells me that women gather in the Garamur monastery (Garamur Satra) every evening to sing (borgeet) for Lord Vishnu (incarnated as Garud – a large bird like creature that appears in both Hindu and Buddhist stories). I am a little skeptical to walk into the ceremony, afraid to offend them. But a woman calls me with a smile and I feel welcome into the group.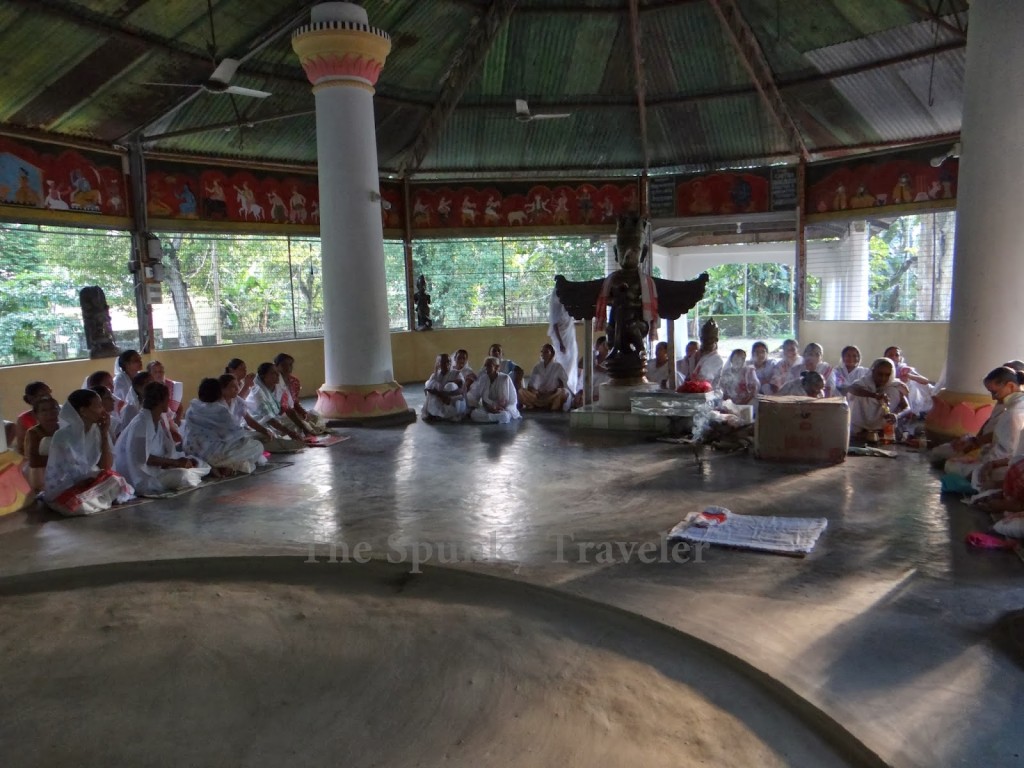 Women singing for Lord Vishnu (Garamur Sattra)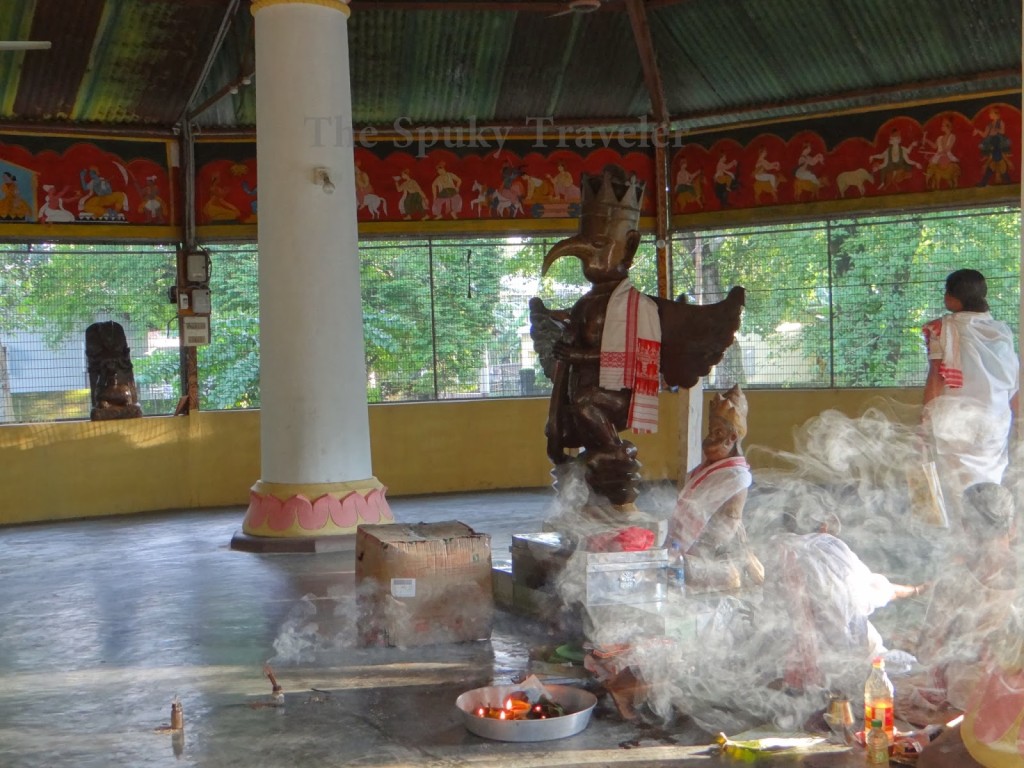 Lord Vishnu as 'Garuda' (A large bird according to Indian Vedic history)
While I walk around the narrow lanes, I hear school children singing. I see locals looking at me from behind their doors with a smile on their face. They are shy, but at the same time happy to see someone from far off walking among them. I can listen for the happiness in their voice as they speak to each other in their local language. I kick off my shoes and walk barefoot on the cold sand with palm trees and bamboo houses around me.
I get a phone call from a local who wanted me to come to his place and have dinner with his family. He is from the Mising Tribe community. I don't know how he came to know about me and neither did I ask. I said 'Yes'. First time in my life I am actually sitting in a bamboo hut of a Mising Family having rice beer with them while they cook rice and fish for the whole family. Mising Tribes are the aboriginal tribes of Majuli Island. Their ancestors migrated from Arunachal Pradesh and settled here centuries ago. Their main occupation is rice farming and weaving. They are followers of 'Doni Polo' religion in which they worship natural forces of nature like the Sun, Wind and Moon. They believe in animal sacrifice.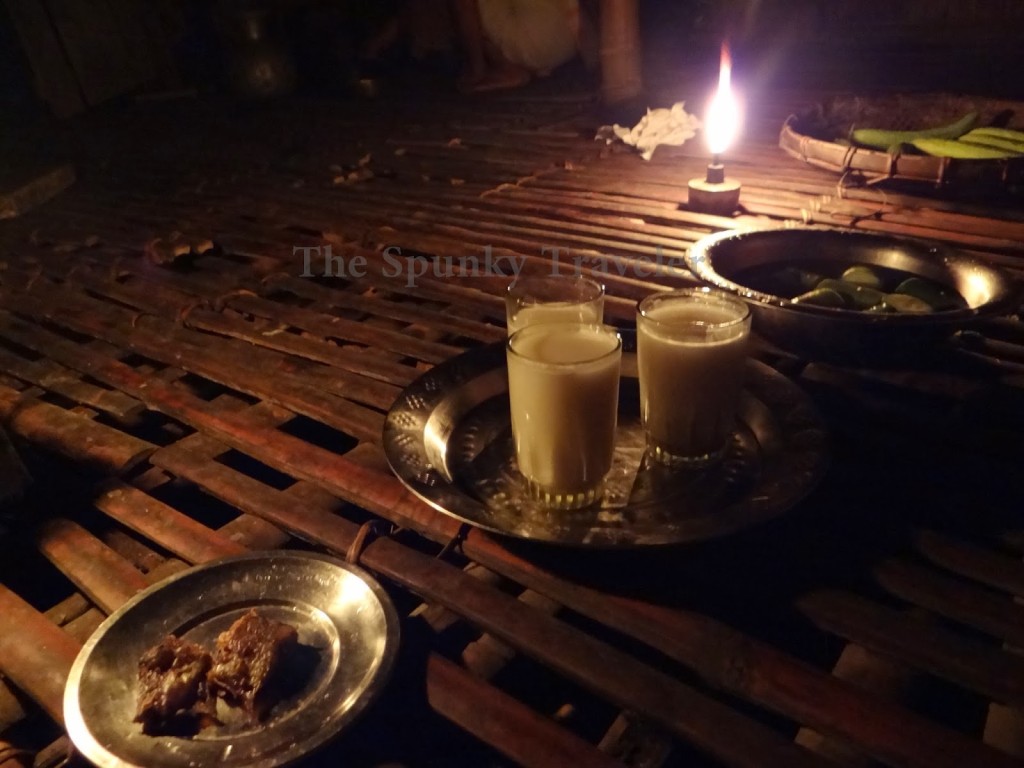 Rice Beer and Fish in a Bamboo hut with Mising Family
Local women cooking Fish and Rice for me
While I am walking back to my hut, I do not need a light because the moonlight is dazzling. I have not seen such a sight in my life. Or maybe I saw it in my childhood when the cities were not so polluted and we had time to take a walk after dinner. I wish I could do justice to the actual experience and bring it for you but no camera is sophisticated enough to capture the experience that eyes can.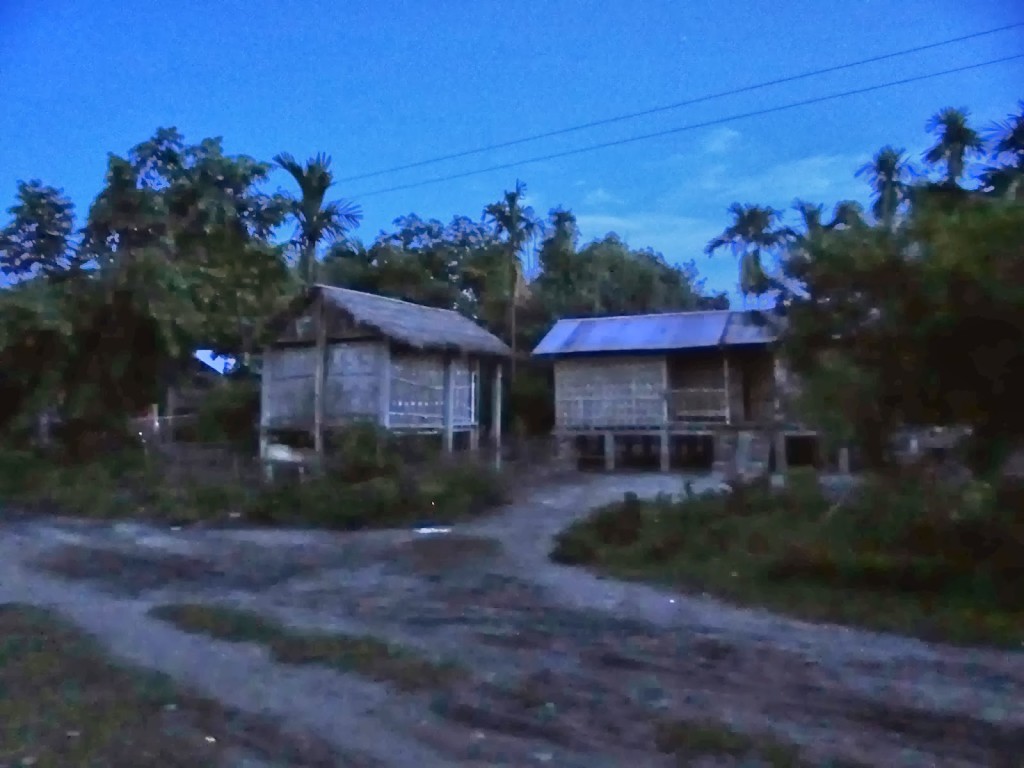 Yes, this is moonlight
I get up early and venture out in search of the mask makers of Majuli Island. A local riding his motorbike stops and asks me if I want a lift. I hop on hoping that he would drop me a little further. We did not speak a common language, but after few attempts were able to understand what the other person was saying. He was very excited somehow and said that he would take me to wherever I wanted to go in Majuli. We visit the Natun Samaguri Satra, home to mask makers since the 17th century.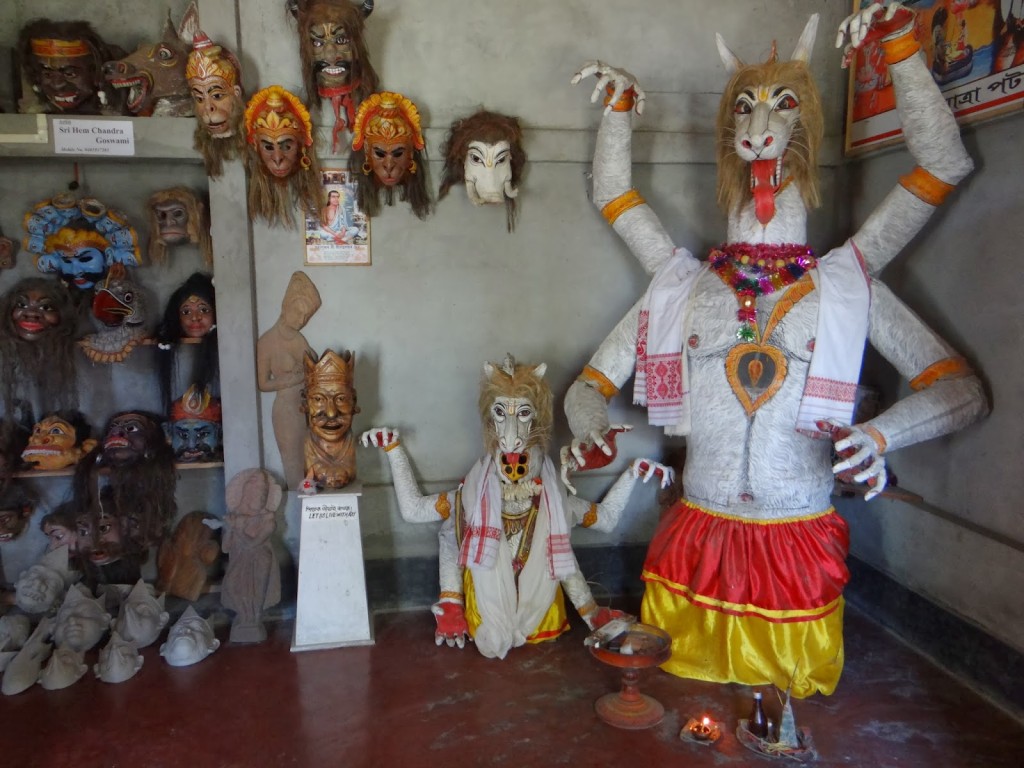 Masks made in Samaguri Satra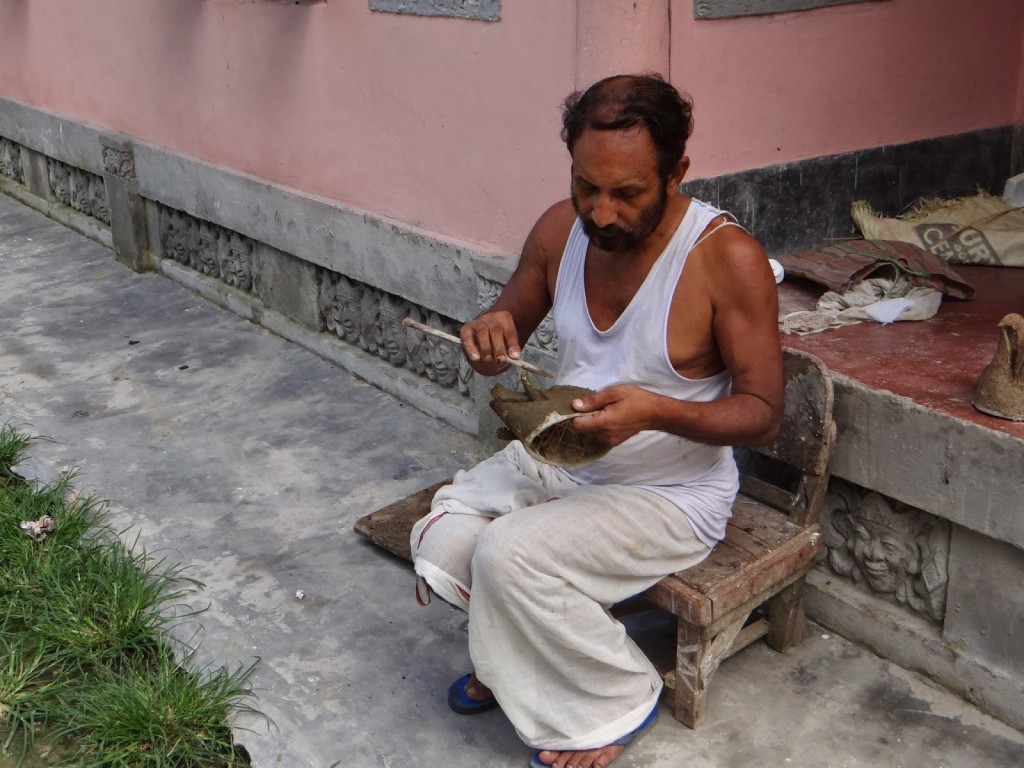 Mask makers use bamboo and cow dung
The family at Samaguri Satra has been making masks for generations. Wearing masks is an integral part of the communities in Majuli Island especially during the festival of Raas Leela in the months of October-November. The locals celebrate fresh harvest and depict stories from the life of Lord Krishna through stage drama.
While coming back, I see a boatman maneuvering through the farms. I am amazed by the way they live in close harmony with nature and use boats to navigate through their plantations that have developed natural canals after annual floods emanating from Brahmaputra for years.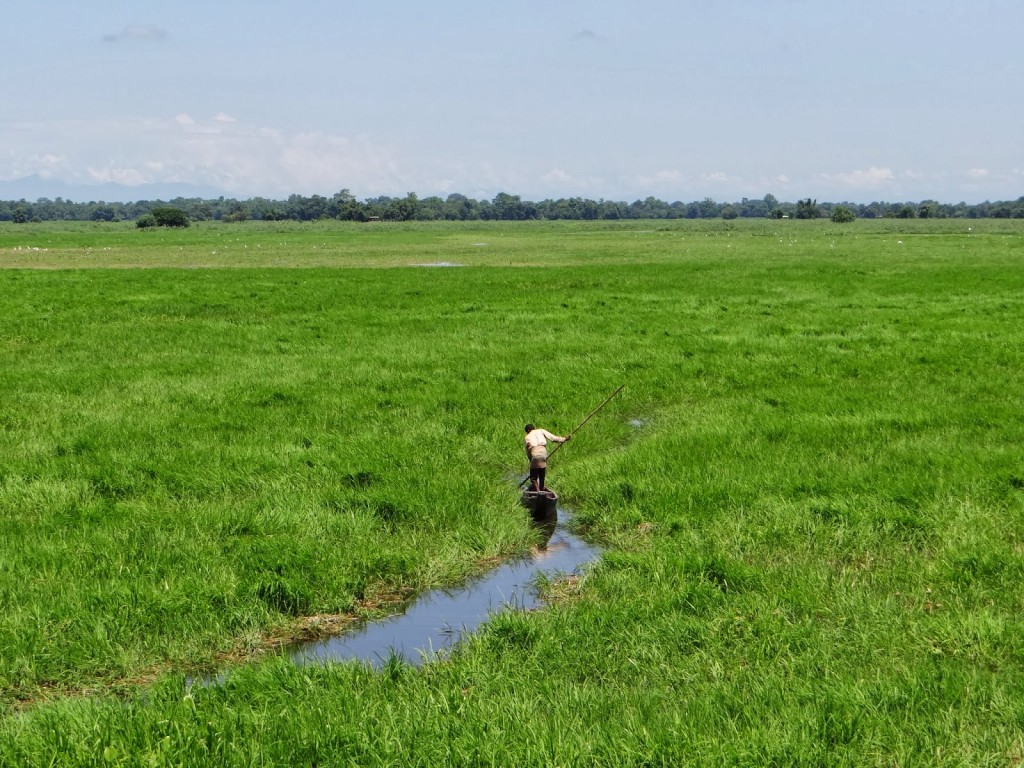 Boatmen maneuvering through farms
I came in a rush and stayed only for two days, but I developed a bond that calls me back to this land where people sing every evening in monasteries, make masks, boats and still follow ancient practices of living. I missed the 'Raas Leela'. I will come back soon in search of new stories from this Island and this time I will not 'Stay' here, rather I will 'Live' here.
I would love to hear your stories from Majuli Island
Related Articles
===
Rural Tourism – Myths and Reality