I notice her looking at me. She smiles and calls on to me. By the way she is dressed, I know who she is and what she wants. I walk up to her. She asks me if I want to come. I ask her, "how much do I have to pay". I am nervous. After all, it is my first time in Thailand. I pay her the money and that's how I bought the ticket to my first bus ride in Bangkok. But, I like the way you think..!!
Nana plaza, the multi-floor 'Sex mall' of Bangkok is buzzing with activity at 9 in the night. In fact, the sun at Nana is just beginning to rise. I have been to the Amsterdam's red light district before which was a pretty safe place with tourists like me all around, but I am not sure about this one. After all it's Thailand. I do not carry my camera, wallet or phone. The lady's voice in Sky Train announces in her typical Thai accent –
'Next station, Nanaaaa…'
How to reach: Take the Bangkok sky train's Sukhumvit line to Nana station. Climb down the stairs and find Soi 4 on Sukhumvit road.
A huge glow sign welcomes me into Nana Plaza. The ground floor has many open air bars. Along the periphery there are Go-Go bars with girls in skimpy outfits. Some of them are calling – 'Sir, Massazzee.. ?'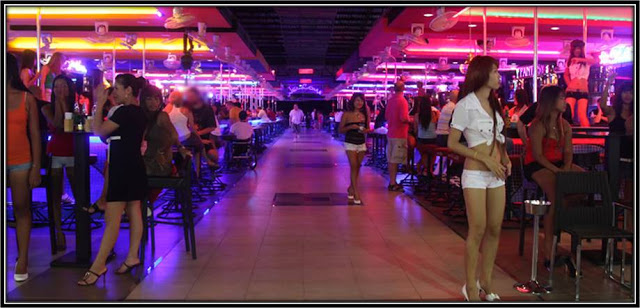 Nana Plaza, Bangkok
Some girls, however, stand out from the others. They are stunningly attractive and tall with the most luscious features. Exciting? Only if you look closely, you will see the adam's apple and deep husky voice of these Ladyboys, locally known as Kathoeys.
It is sometimes very difficult to distinguish a ladyboy from a girl, especially when you have had a couple of beers.
Here are some give away signs:
1. A girl's hips are always a little broad as compared to the shoulders. It is opposite with the ladyboys
2. The Adam's apple. It is the biggest give away. However, some ladyboys get them removed by surgery
3. Ladyboys are just too attractive. They are often too good to be true among all the other girls around
4. Look at the back of their hands. Their hands will be more muscular and rough than those of a girl
5. Voice is the next biggest give away. They get their voice changed by surgery but it is not always that easy
6. A ladyboy's jaw line is often not as delicate as that of a girl. It can be fixed by surgery though
Do you know of any other give away signs? Share with me in the comments below.
I take the elevator to the first floor. I have hardly gone a few steps when I feel an arm quitely sliding into mine, almost like a hot knife through butter. I look beside me and a lady who is 'too good to be true' is asking me if I want to come with her; you know what I mean.
Girls will lure you, and often, literally take you by your arms and try to drag you inside. I see many westerners and Japanese being pulled by as many as five giggling girls at a time. The Go-Go bars with their 'beyond all imagination' ping-pong shows are on the first floor, bars like Lollipop, Carnival, Fantasia, Spankys, Angel Witch and Red lips. Most bar girls go out with the men upon payment of bar fine. G-Spot, Cassanova and Temptations are all exclusive Ladyboy bars.
I don't mean to scare you off. You can just stroll around and possibly walk into one of the Go-Go bars which have their shows going full swing. I needn't tell you that you have to buy some drinks inside. The whole place is quite safe until and unless you don't do something obviously stupid like proposing a ladyboy for marriage and getting serious about it.
Do you have your own experiences or tips that you want to share with us?
===
Related Articles: