I see a narrow road going uphill. It is deserted and covered with weeds, and there is a big iron gate at the entrance. Obviously, not everybody goes there. This is what spurs my curiosity all the more. A local juice seller tells me that it leads to 'Pang Ma Pha', the highest mountain peak in Thailand's Mae Hong Son province. I haven't planned a detour, but how can I miss the opportunity to drive up this mysterious mountain road.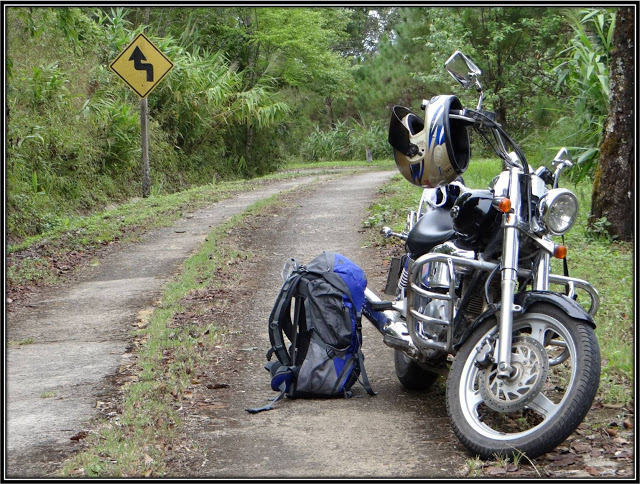 Pit Stop on the way to Pang Ma Pha
'Oh Crap', is what I said to myself
in the midst of a steep uphill climb. My excitement is bursting out of my pores. I can't afford to leave the accelerator of my motorbike because if I do so, I will go back so fast that I wouldn't be able to control. After a daunting ride of about 3 km which takes half an hour, I stop my motorbike. All I can see around me is mist. I can't see the valley below because I am above the clouds. There is a mystic silence everywhere, occasionally broken by the sound of crickets. If I fall down into the valley, no one will ever come to know. My motorbike will remain undiscovered for days. Damn, I should be feeling nervous. Why am I so excited about it? My research on
Long distance Motorbiking
came in handy.
Another 1 km ride takes me to a signalling tower where a lone man is sitting on the ground weaving a mat. I pity this man's life and park my motorbike because I can't drive it any further. I have to cover the last 300 meters on foot with a 10 kg backpack and a helmet.
I can't feel the weight on my back as I am drugged by the beauty around me. I start walking on a narrow beaten path into the woods. Every bit of the 30 minute walk to the summit is rewarding. Once I am out there, I drop everything, just lie down and close my eyes. The clouds are blowing across my face with their cold tiny droplets kissing my warm skin leaving it moist. I can smell the wooden hut I am in. I can feel each and every molecule of my body being tingled by the chilly winds.
It is true that the best moments of life are often those that are unplanned. Once I am back all the way down to the main highway, I am a proud man. I have climbed the highest mountain peak in Northern Thailand. I pat my back before hitting the road because I can now proudly say, "I have felt the clouds, and I know how they smell".
P.S: This is the article that I submitted for The Biggest Baddest Bucket List contest. Catch the associated travel video on New Delhi Here
Do you have your own heart stopping experiences? If yes, share with us in comments below!