It takes only one experience for a distant dream to become an insatiable addiction. After motorbiking across
The Mae Hong Son Loop
in Northern Thailand, I just had to find another motorbike for my journey to West Bengal and Bhutan.
Finding an honest rental company is a challenge. However, I have been lucky each time I went in search of a motorbike. I chose
'Adventures Unlimited'
, which germinated as an idea among like minded friends, and, eventually turned out to be a specialist group in motorbiking and adventure sports in North East India. One fine morning you may give a call to Gautam (Gatty), who owns the place and may find him motorbiking on the other side of Myanmar.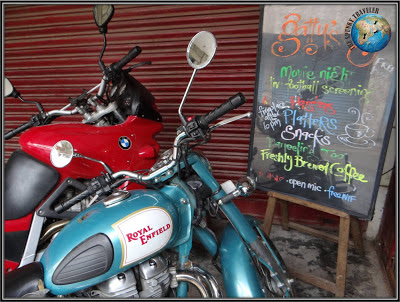 Motorbikes at Gattys, Darjeeling
How to find Adventures Unlimited:

Hotel Norling Complex, 142(1), Dr. Zakir Hussain Road, Darjeeling
I chose an Enfield Classic 500cc for my journey to Bhutan. I was a little nervous as this was my first date ever with an Enfield. Everyone seems to have created a big hype about how difficult it is to drive an Enfield. Apart from the motorbike, you can hire safety gear like jackets, helmets, gloves, boots, visor, bags and even head mounted cameras to record your journey.
Requirements: Two passport photographs and an identification document before hiring the motorbike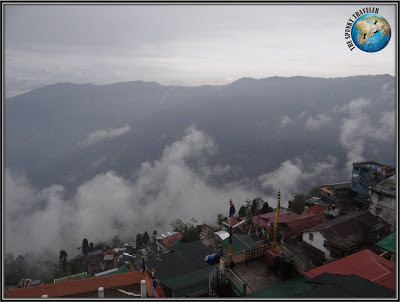 View of Darjeeling town from Gattys cafe, Darjeeling
List of some of the adventures that are in store for you:
Trekking: Feel like exploring the mountains of North East on foot? Venture out with the local experts of Adventures Unlimited. Take photos, play cards with friends, find the trails you never imagined of and listen to the sounds of nature. Find the untouched nature trails and wildlife. You may even find yourself.
Being sensitive: Give some love back to the nature. Darjeeling region is environmentally sensitive and is currently facing many issues around environmental degradation due to tourism. You can contribute by:
a. Not throwing the garbage and plastic around. Carry a small bag to collect all the garbage you generate
b. Carrying refillable bottles and not buying a new water bottle each time
c. Not feeding forest animals with your food. It will disrupt the eating patterns of animals. Ask the local guide about what they eat in their natural habitat, and if you wish, feed that to them
d. Keeping away from burning wood. Local guides can tell other ways to stay warm
e. Considering it as you home. You won't make your home dirty
You can go on treks to
Singalila
and
Goechela
. For more information contact Adventures Unlimited directly. Check out this amazing video of Goechela Trek made by one of the travelers. I like the background music.
Village/ Rural tours: Live with the Nepali and Bhutia tribes of West Bengal or hike across the mountains into Sikkim to discover the Lepcha and other Nepali tribes. Live their lifestyle, explore their distinct languages, customs and experience the warmth of living with a local. Taste cuisines pulled freshly from the hearth.
Being sensitive: There are many cultures and traditions around this world and each one of them is unique. It is their uniqueness that makes you want to travel and explore them. If they were like your own, there would have been nothing new to explore. You can contribute by:
a. Respecting the local language, culture, food, tradition and customs
b. Dressing appropriately. A local guide can help you know what's appropriate
c. Knowing that these cultures, traditions and people are unique in themselves and need to be preserved the way they are
Kayaking & Rafting: Whether you are a beginner or a pro, there is always something for you. Enjoy the kayaking and rafting in Teesta and Zanskhar rivers. If you are a beginner, you can also opt for lessons in kayaking. Camp by the riverside, have tea with friends, sing all night long and take memories to your homeland.
Being sensitive: Teesta river is facing big challenges due to irresponsible travel and unplanned construction. You can contribute by:
a. Not throwing any garbage or plastic in the river. Carry a small bag to collect all the garbage
b. When camping, don't leave food crumbs around. It will shift the balance in eating patterns of local birds and animals
c. When fishing, please throw the fish back into the river before it dies. If you wish to eat, buy from market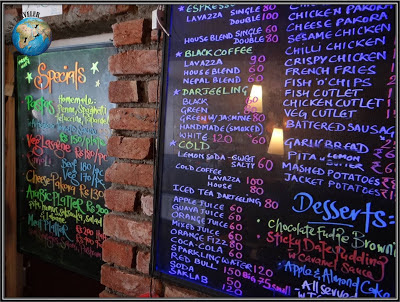 Finger licking menu at Gattys Cafe, Darjeeling
Adventures Unlimited also has a cafe called, Gatty's cafe further up Zakir Hussain Road. After a long day in the mountains, come back and share your stories with other travelers over drinks and delicious Italian, Arabic, Indian and Local cuisine prepared in house by the very group of friends who started Adventures Unlimited. Catch a movie that runs at Gatty's every evening or get lucky to stumble upon a musical jam or an open mic night.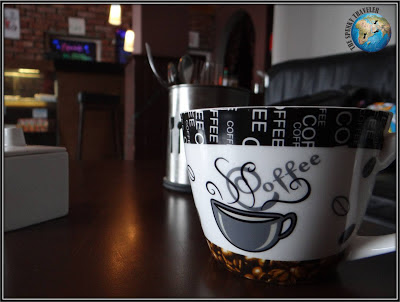 Endless cups of Darjeeling tea at Gatty's Cafe, Darjeeling
Note: All my reviews are independent and unbiased. They are in no way influenced by monetary or other benefits.
Do you have any other ideas on Responsible travel?
===
Related Articles:
===