My mind, like everyone else's around me is conditioned to seek certainty and security. I have sought for it in every area of my life including studies, while in a corporate job, relationships, and, to a certain extent even in my travels.
I took a massive leap of faith by giving up my secure (or not so secure) job to become a traveler in which my family supported me [Read: How my family helped me become a better Travel Writer]. Yet, I didn't realize when traveling also became a checklist for me where I had to 'achieve a destination' each day.
—
'Maybe it will come, maybe it will not', the monk said while we waited for a local bus from Old Rumtek monastery to Sang Martam village in Sikkim. He had a sense of peace on his face which I couldn't help but notice. My mind snapped back from frantically looking at my watch and the looming clouds above, to a space of wonderment. I wanted to reach the village and see its beautiful rice fields. I had to complete this today and rush back to catch my flight the next day. In the midst of these thoughts, I had forgotten to be in the moment. I wasn't listening to the gentle hum of cool wind crisscrossing through the maze of huge pine trees. I wasn't seeing the beauty of the valley on the edge of which I was sitting. It was covered in mist barely making visible the far off huts. Specks of yellow light were visible through the tiny wooden windows and the chimneys were emitting thin trail of smoke. I wondered who was inside and what were they doing.
'I wasn't listening to the sound of silence'
A distant and faint sound of horn brought me back to my usual self. A jeep was coming from down the hill and I wanted to be on it. The jeep came to a stop right in front of us and luckily it had seats. The driver got down, and to my disappointment said, 'We are not going any further. Maybe you can walk'. With gritting teeth, I began walking determined to reach the village. The thought of coming this far and not reaching the destination wasn't going down very well.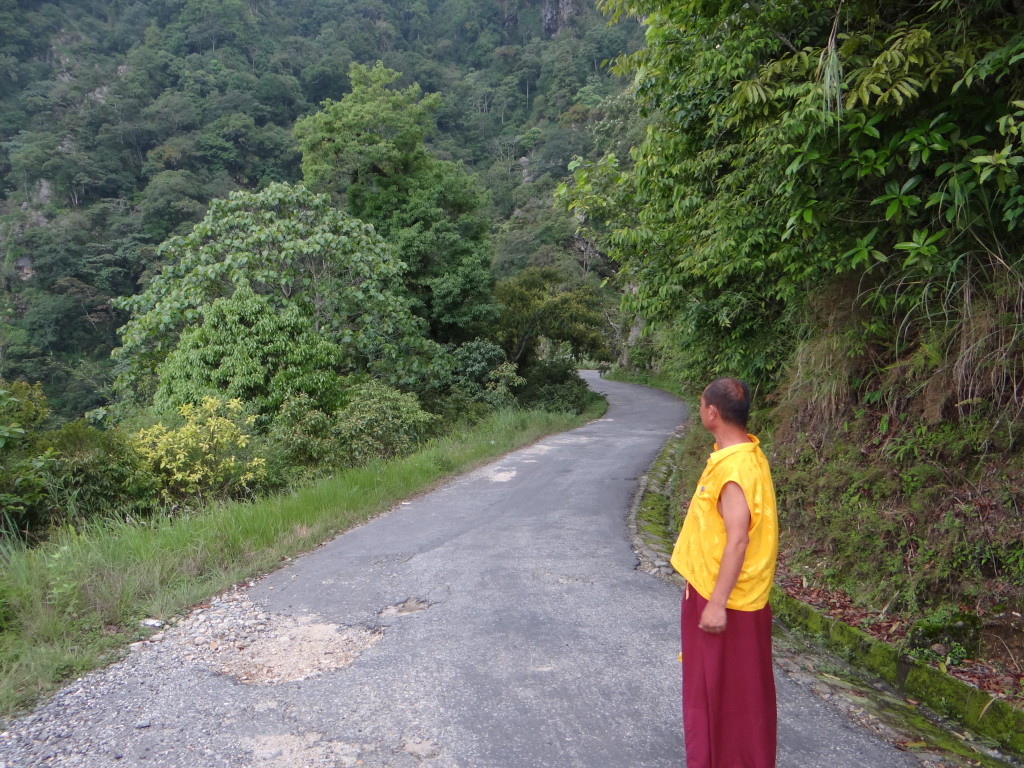 The monk walked beside us narrating stories and showing us the villages and valleys like a child showing his new toys to visitors. We stopped on the way to take photos and the monk sat beside us on a rock waiting patiently. We do not give much time to each other in cities unless there is some work. I was anticipating him to beckon us to be fast, but he just sat patiently. I asked him if he will get late for his village. He said, 'Maybe I will reach, maybe I will not', and looked into the valley below with contentment.
'I wasn't anticipating a stranger to give time'
I was beginning to loosen the strings that held me so tightly on the thought of reaching Sang Martam village. Few jeeps came but none stopped. Clouds had become darker and the rain began to pitter patter here and there. A lone car came up from opposite direction offering us a ride back. I knew that this walk with the monk was meant to be, not the destination.
We hopped into the car and headed back while the monk walked on. I was thinking of how much significance I have given to being a successful travel writer. I have lost a bit of flare for passionate writing itself. I looked into infinity outside the window when my friend asked in a worried tone, 'I hope we are able to catch our flight tomorrow'. Lost in my thoughts I replied, 'Maybe we will, maybe we will not'.
Travel with me on Facebook and Twitter
Related Articles:

===
From Business Analyst to Travel Writer
Kewzing – Traditional Himalayan Bhutia village
Gaurav Bhatnagar

Software Engineer turned Travel Writer, Photographer, and Public Speaker on Responsible Travel. Entrepreneur in Responsible Rural Travel @ www.thefolktales.com