'This is edited/ enhanced version of my original article that was published in Travel Secrets magazine, January 2015 print edition'
"You will not find Greek locals in Santorini. That island is run only by expats and tourists," a fellow traveller tells me from behind a cloud of cigar smoke and with an air of indifference. Those were not exactly the words I want to hear while sailing toward a place fabled for its serene beauty. I have always wanted to visit the island, but don't know what to expect there apart from blue and white houses, let alone the villages of Santorini. Restless, I walk towards the bow of the ship, a huge vessel, or perhaps a tiny speck bobbing up and down the sapphire blue Aegean Sea.
A comforting wave of cool October breeze blows through my hair carrying with it the addictive charm of Greece and its people – one of the reasons why I would never visit Greece again. I gaze at the horizon, picturing the one thousand ships that sailed from Sparta to Troy for Princess Helen and for power. Three millennia down the line, the Achilles of the 21st century sails again. This time his weapon has changed from a sword that fights to a pen that writes.
By the time we arrive, I have made up my mind. I shall give Santorini the short nod, and go where the tourists do not. As if in approval of my decision, the port of Athinos greets me with rows of rental cars and tourist buses.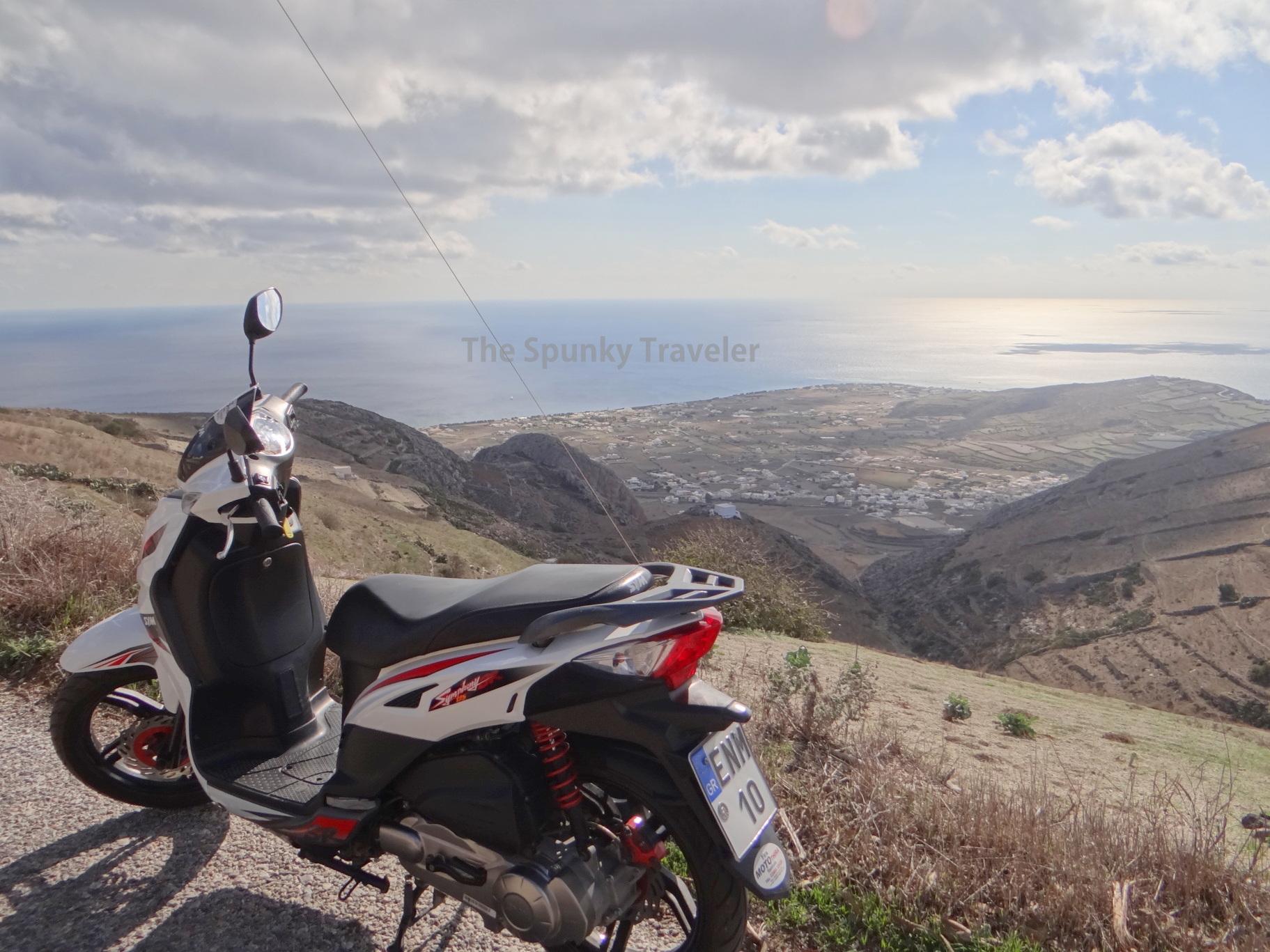 With my dark skin, lean build and affinity for the simple and rural life, I often pass off as a native in Mediterranean countries. I take that to the next level by hiring a scooter. But driving on the other side of the road was not as easy as I had thought. It was like reprogramming my mind to run in the opposite direction. I was almost run over by a bus on the first day itself.
—
Finikia village:
The traditional settlement of Finikia lies just outside Oia (pronounced as 'Ee-ya'), towards the northern edge of Santorini. It is a small affair, composed of 50 permanent families, a main street and a sunset point rumored never to disappoint. I take my time getting to that point, strolling the lanes, catching bursts of conversation that is, quite literally, Greek to me!
I can tell that they are preparing a meal together. Like Indians, Greeks are loud, always around a family and only steps away from their next grand meal. Souvlaki, perhaps. Over the last week in Athens, I have fallen in love with Souvlaki and I follow it like Scrat looking for acorns. Greek Souvlaki is roasted pork or chicken served on a stick or sliced from a chunk of meat that gently rolls and cooks over fire. You eat it with pita bread, cucumber Tzatziki sauce and fresh tomatoes. Hungry now, I head to a local eatery and tuck into a bellyful of pork Souvlaki.
The sun is going down as I walk past vine-laden yards. A bunch of kids run past, tossing me the curious grins of those not used to seeing visitors around their houses. Dozens of cosy homes are up for sale here. I toy with the idea of buying one; not being a visitor any more. It is that kind of place, you see.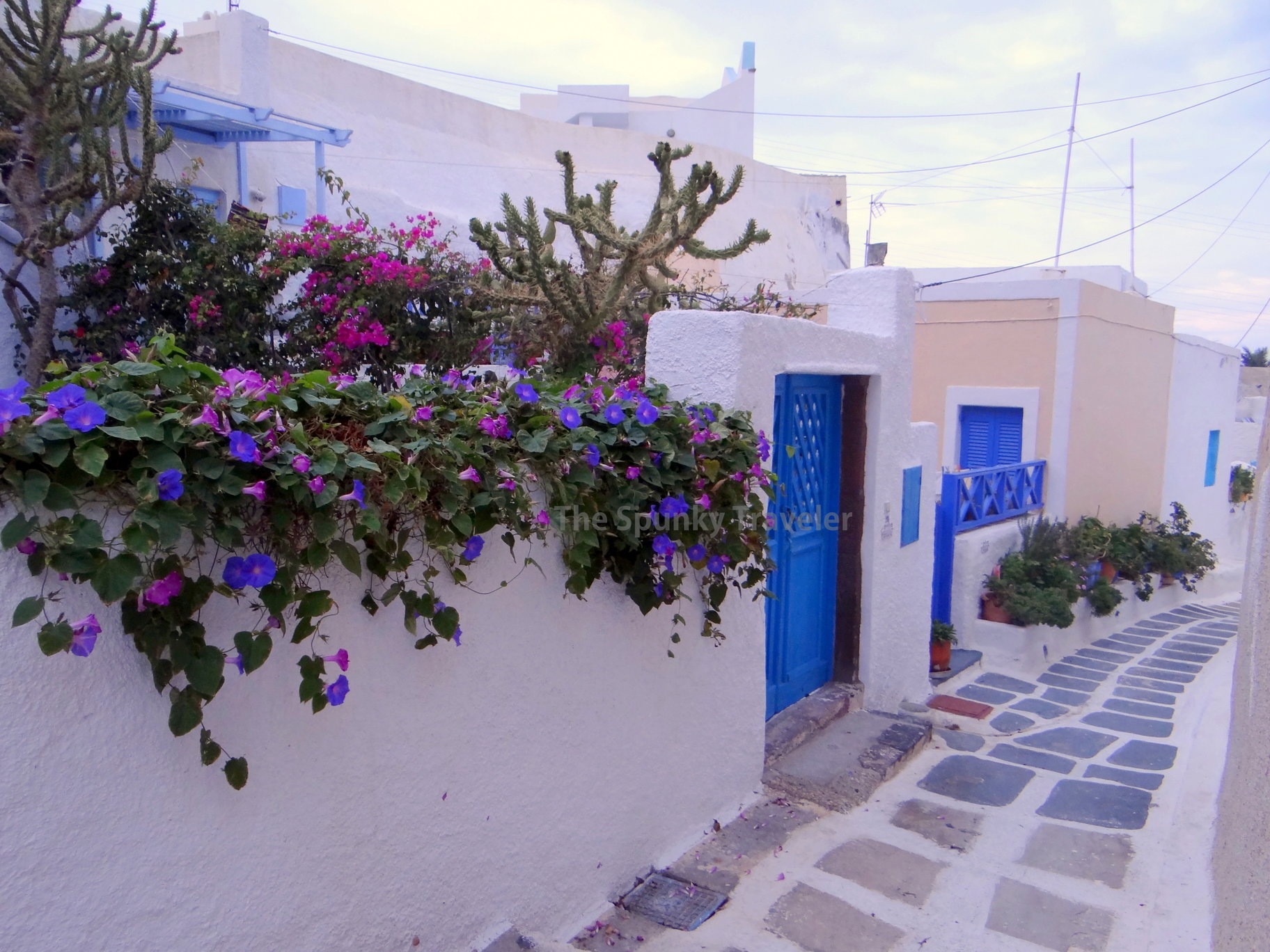 The giant red ball of fire – biggest that I have ever seen, sinks over the blue sea at Serenade point, and I feel my heart lift with childlike joy. Into this silent moment, someone introduces the soundtrack of laughter. I turn to see a just-married couple, stepping out of the local church. If love was ever in the air, it is here—so tangible you could hold it and lock it into your own heart.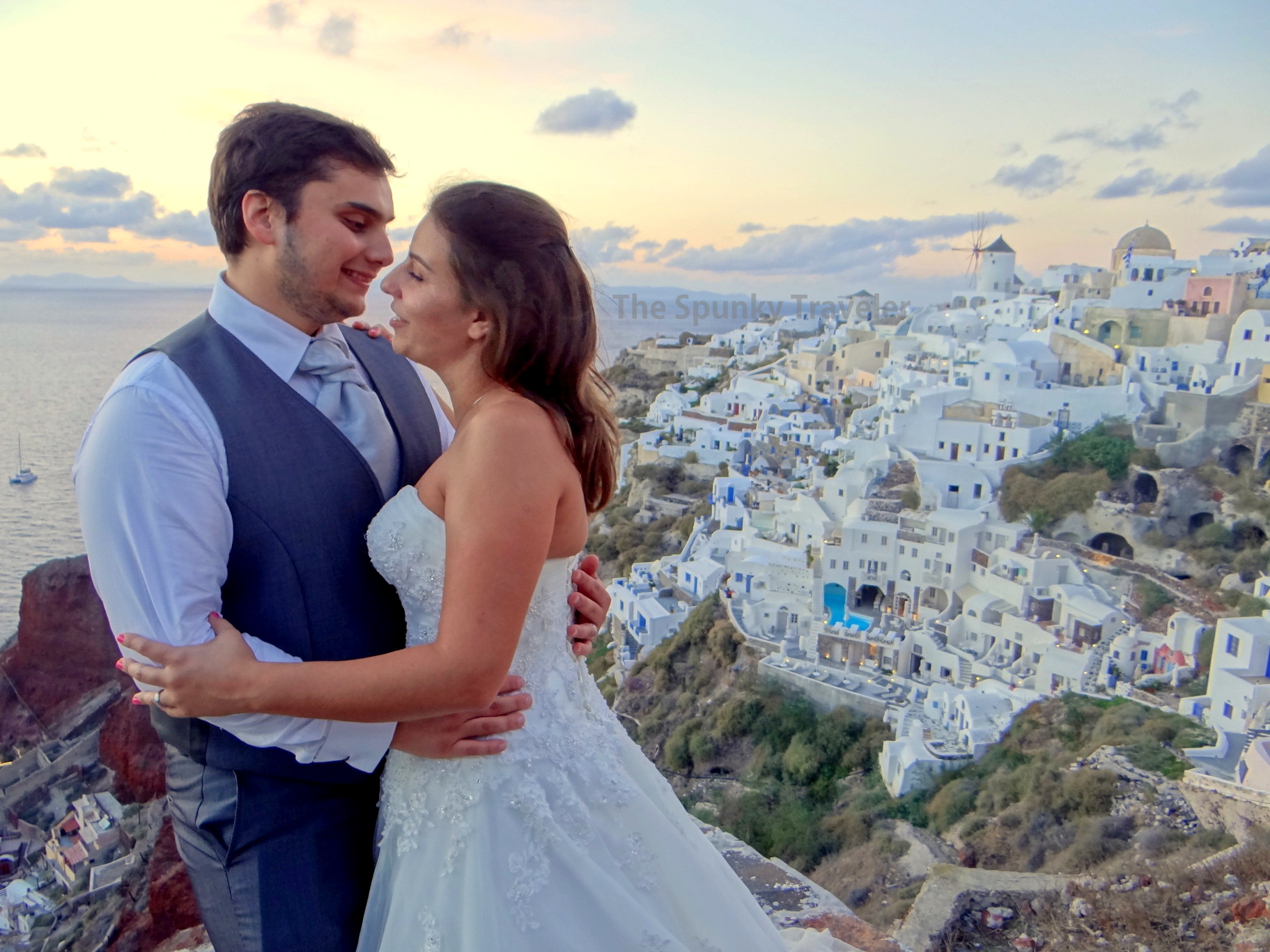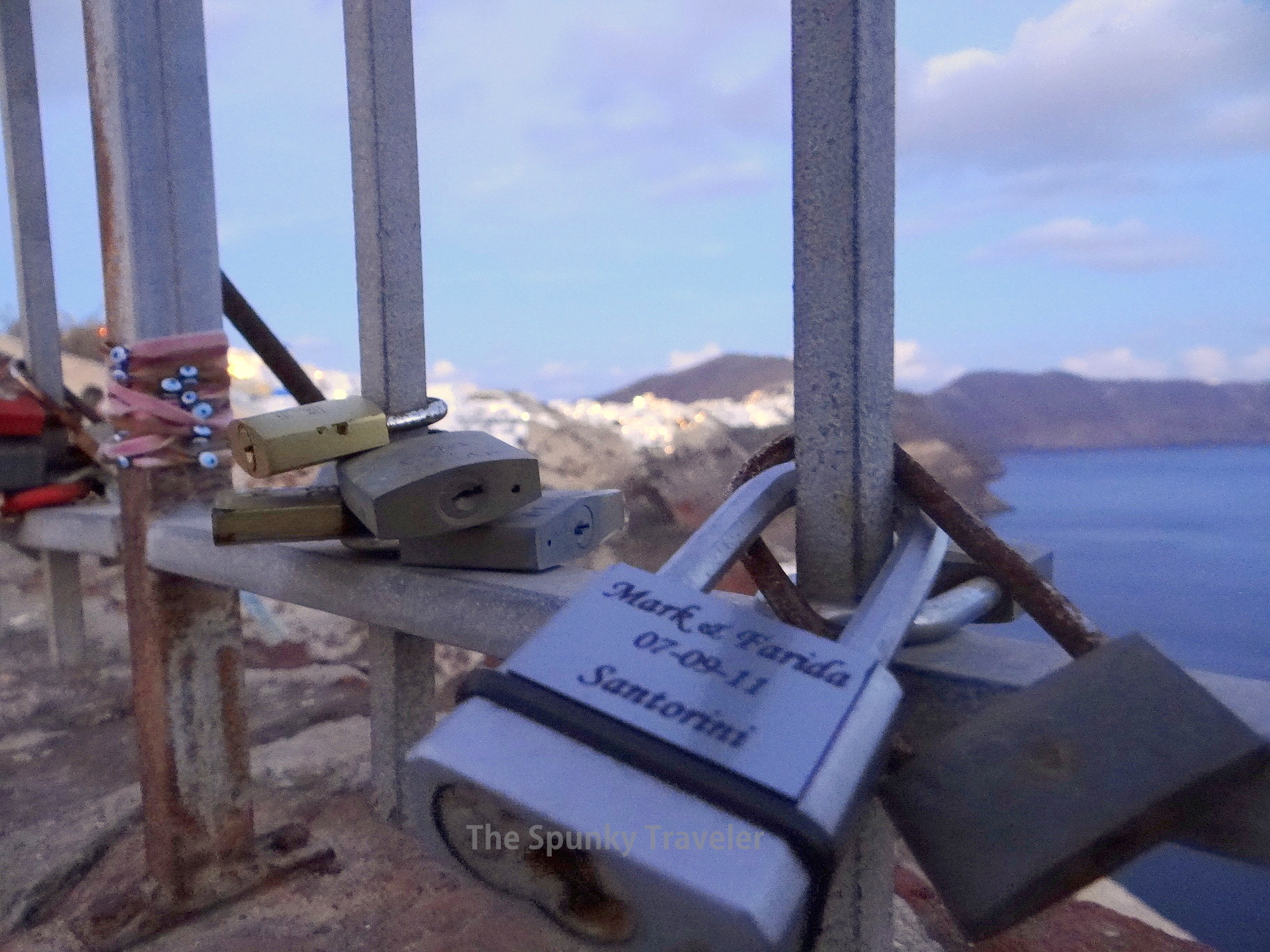 You can walk or take a donkey ride to Oia. I am not too crazy about donkeys; there are plenty of them in India (no pun intended). But a Donkey Terminal? Now that is unique!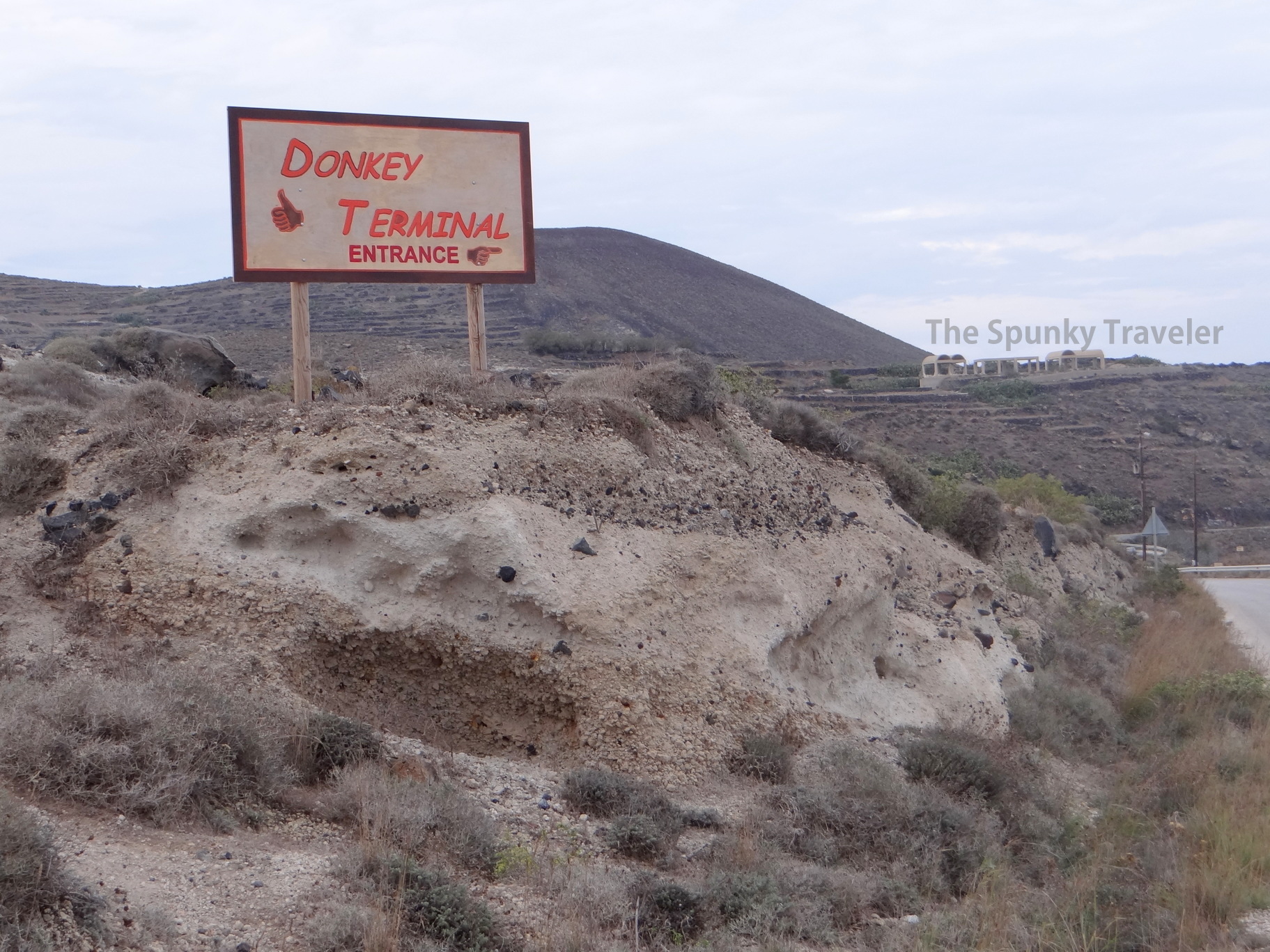 The warm sea breeze gathers a hint of chill after sunset and tiny lamps are lit all across Oia. The town's pretty cafes, homes and souvenir shops are now soaked in Greek music playing on a bouzouki. When the last notes die out, the waves take over. I end the day listening to them crashing far below, in their never ending quest to reach to the top.
—
Pyrgos village: 
Set on top of a hill with the two distinct blue domes of its picturesque monastery is the village of Pyrgos or Pyrgos Kallistis. It is the highest point on the island and the only place from where you can see most of the far off village settlements including Firostefani, Imerovigli, Messaria and Oia.
Walking through the labyrinthine streets, past neo-classical mansions and into hidden alleys, I reach the Venetian castle around which the village is built. There's a plaque at the entrance, commemorating the martyrs of World War II. I climb up top, and marvel at the magnificent views.  The wind carries with it the fragrance of flowers mixed with the faint burnt aroma of Greek coffee. Eyes half closed, I drift into a dream where I am picking pistachios and olives in my farm, carrying a basket full of them back home, where my beloved awaits. Together, we set the table with white cloth and two glasses of red wine, and dine under the dazzling moonlight.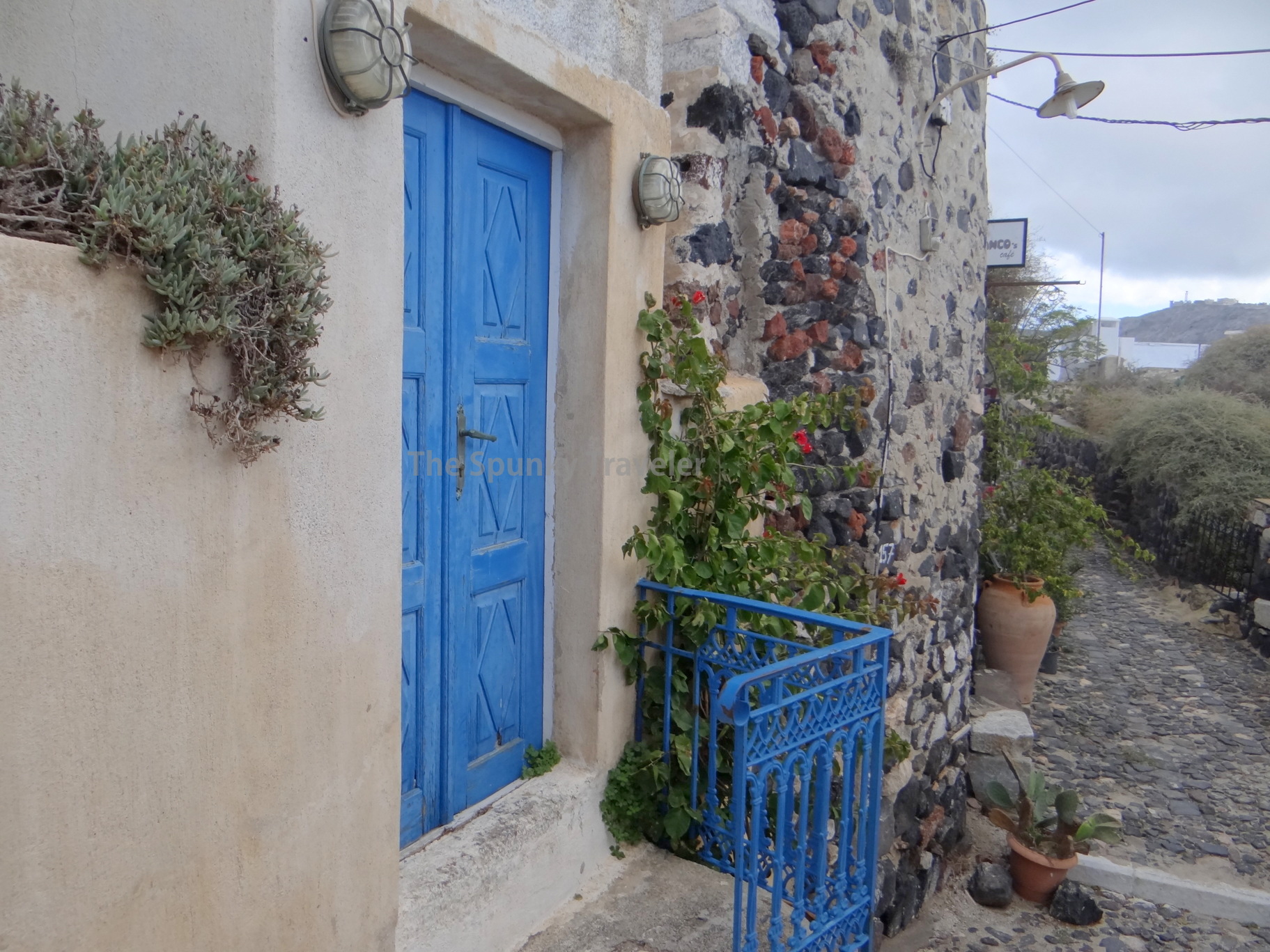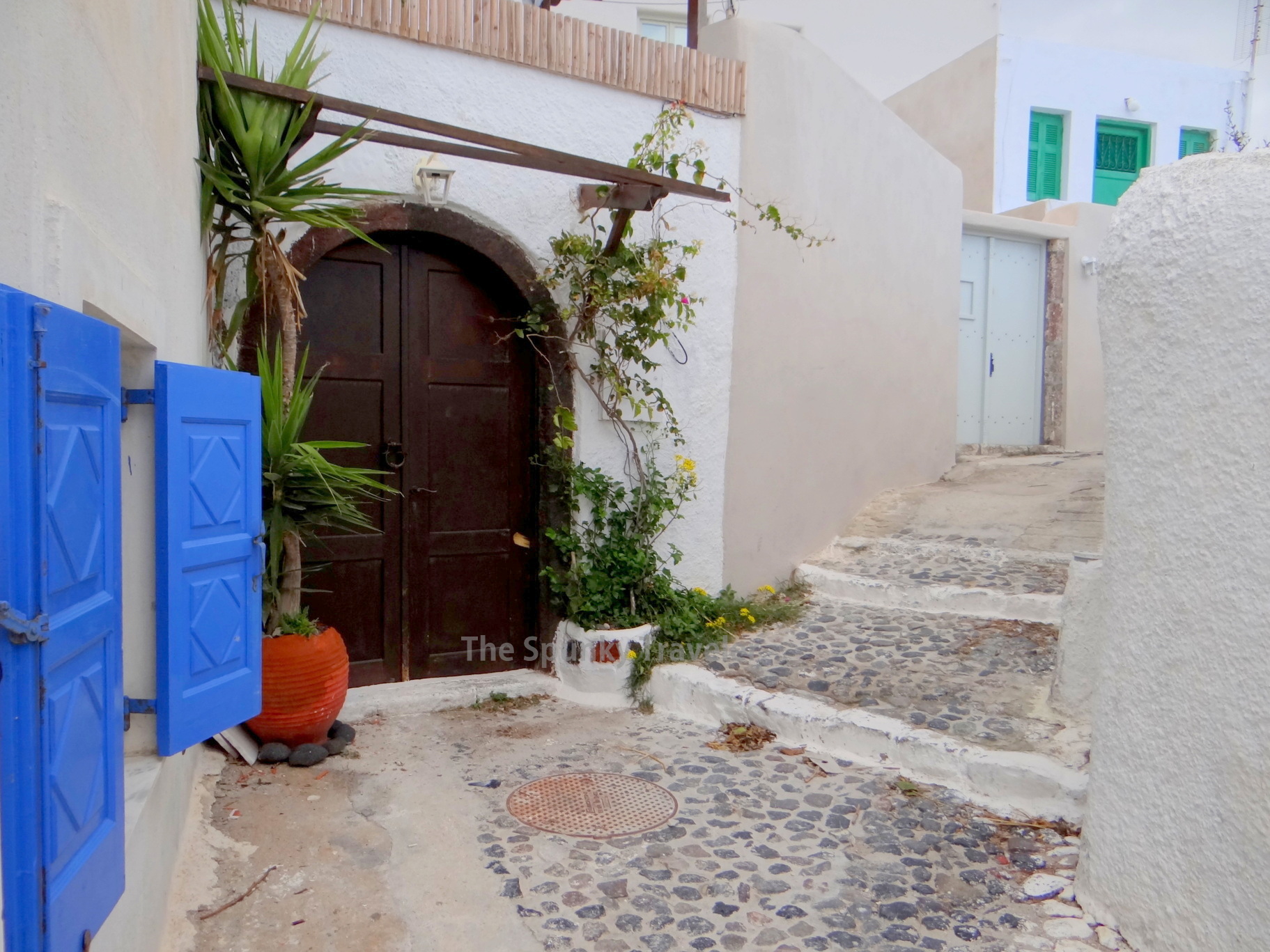 Back down into Pyrgos town, the souvenir shops and cafes offer pleasant indulgence. A 'leather artist' engulfed in cigar smoke crafts a leather shoe, and a television monitor helpfully zooms in on the intricate art work of his hands.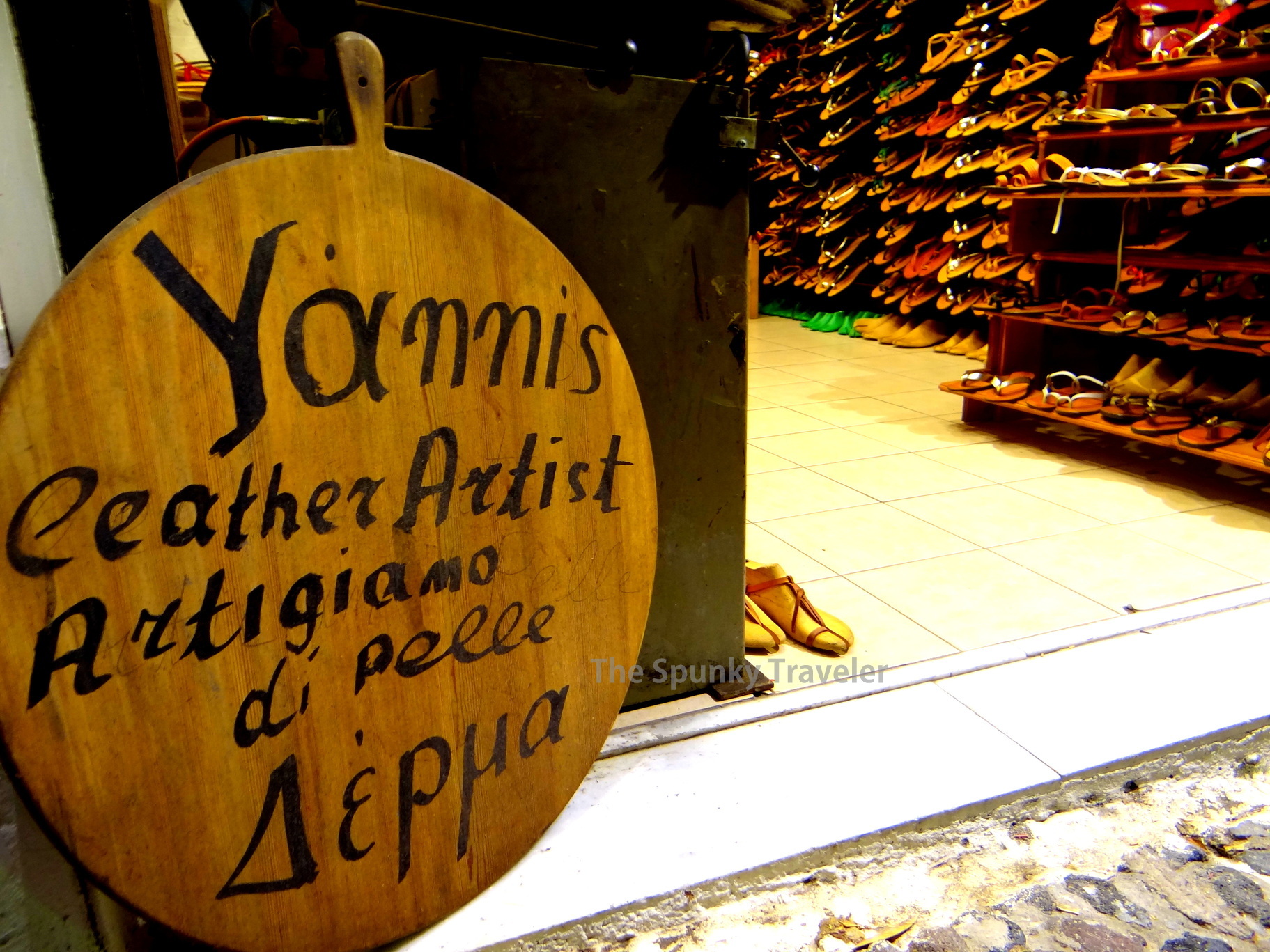 Megalochori village:
A 10-minute drive from Fira brings me to the village of Megalochori, surrounded by vineyards and dotted with white-walled, blue-domed churches. The blue and white theme runs across the architecture of these islands to reflect the strong summer sunshine and keep the air cool.
Santorini produces and exports a sweet dessert wine called Vinsanto. White grapes are dried over straw mats, where they drink up the sun and are later squeezed into wine.  Megalochori abounds in vineyards, and just strolling along them offers intoxicating vignettes of daily life in rural Greece: old men work in the fields, young love blooms on the cobbled streets, colourful fruit and vegetables piled high on carts offset the blue of the sky, and cats play escort on your solo walks.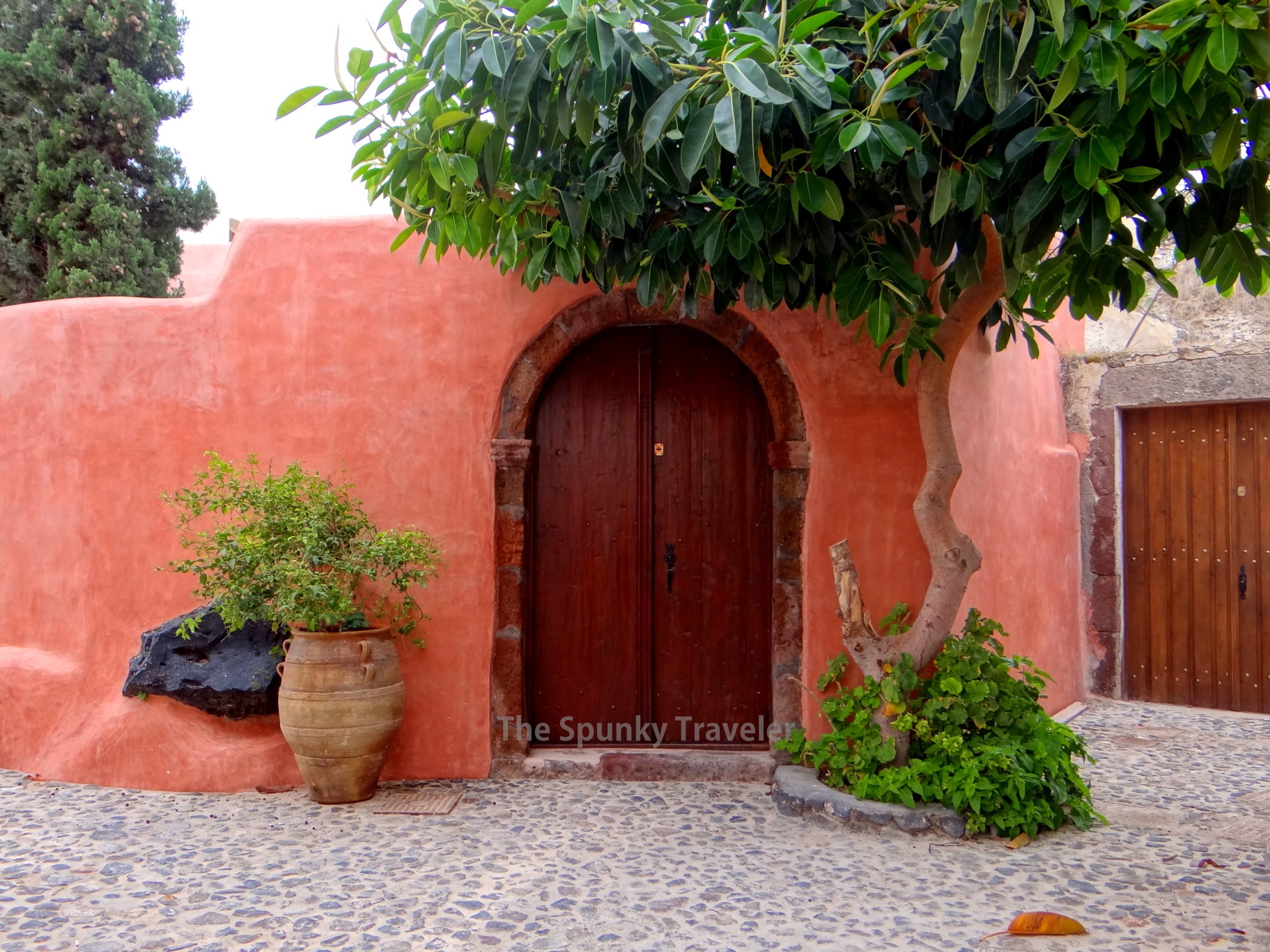 On one of my last evenings before I head off to Meteora, I take a chair in a quaint cafe overlooking the caldera. Traditional Greek Syrtaki music plays on a Bouzouki. Two middle aged women sit outside smoking and chatting. No one is in a hurry here. Dusk deepens, and more people join in the laughter and conversation. There are no tourists where I am; locals run the show—a performance unrehearsed; unforgettable.
Do you have any stories unheard of from villages of Santorini? I would love to hear.
Travel with me on Facebook, Twitter & Instagram
Feature image: Pyrgos village, Gaurav Bhan Bhatnagar
Related Articles –
Why you should never visit Greece
Tzoumerka – villages beyond Greek islands
Gaurav Bhatnagar

Software Engineer turned Travel Writer, Photographer, and Public Speaker on Responsible Travel. Entrepreneur in Responsible Rural Travel @ www.thefolktales.com